Aaln: The Wayward Angel
Aaln: The Wayward Angel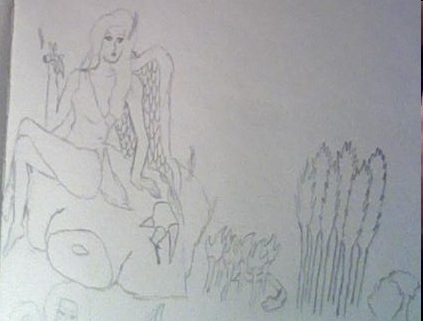 Description
This is my initial design for a Character who will be appearing in ER: Broken Mirror.  So far I have her backstory as a heavily disliked angel who is constantly sent to fight demons in Hell, so she stays away from heaven.  She does not mind because she gets to act freely here.  She enjoys the things demons have access to.  

Sylis and Reyah first meet Aaln in 'The Garden' where Aaln and Uriel slay a demon.  Uriel quickly leaves but Aaln stays, cuts a snake apart, stuffs it full of a plant and smokes it.  She also offers a Reyah an apple from the tree of knowledge, that now resides in hell.  I haven't figured a lot of it out. But Aaln claims to be God's second least favorite angel (behind Lucifer).
Here she is sitting on the slain demon.  She used it's claw to light her snake and has stabbed it into the demon.  I also just made up some random plants to be in 'The Garden.'

Taking a photo with my laptop out of my sketchbook distorts the image abit.  It doesn't help that it falls within the crease.