Soliel & Night Queen
Soliel & Night Queen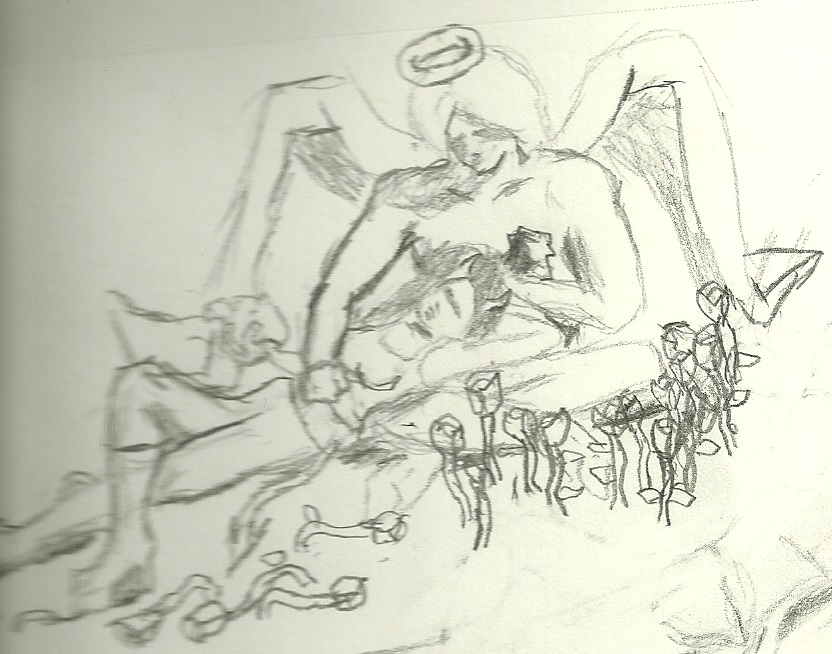 Description
This is a draft for my next drawing I really want to work on for now it's a quick sketch out of my head.  The next time I will be doing it in charcoal.  These characters were originally not going to be drawn, they are from a series of poems I wrote.  Two lovers who don't belong together.  
Team fun fact: Soliel and Night Queen met on earth, masquerading as humans.  It took them a long time to find out they were not humans (they kinda noticed when they lived much longer than other humans) 

Soliel
Age:irrelevant/~2000
Hair: Blonde 
Eyes: Blue
Gender:Male
Height:5'10
Weight: 60kg
Species: Angel/Phoenix (Half-half)
Combat Attitude: None/Pacifist 
Fun fact: Upon crushing his own heart, he falls to ash, he rises from this ash with one feathered wing and his left wing now as flame.
Fun fact 2: Soliel has spent centuries away from both heaven and the sun, his homes, to entertain Night Queen.
Quotes: "Humans wish to give their hearts to the one they love.  I have the fortune of being able to do just that"
"Soon enough I'll have Wings of Flame"

Night Queen
Age:irrelevant/slightly less than ~2000
Hair: Brunette
Gender: Female
Height: 5'2 (5'4 in normal heels, 5'7 in her current platforms)
Weight: 50kg
Species: Succubus
Fun Fact: She enjoys flying in new places in hell and earth.
Fun Fact 2: She keeps one of Soliel's feathers with her at all times, though the feather burns her.
Quote: "If you wish to lose yourself like that, do it yourself"