Greenlight
Greenlight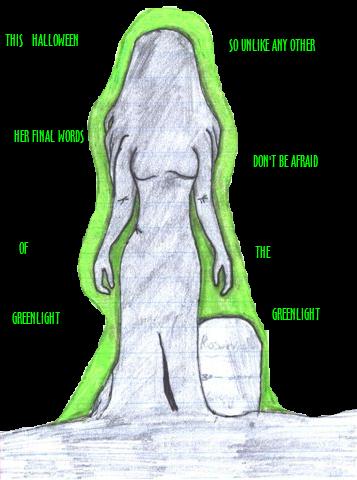 Description
Yeah I LOVE THIS!!! It turned out so well!!! The lyrics are from Type O Negative's song 'Greenlight' the lyrics for the song are<br />
<br />
'The Halloween<br />
So unlike any other<br />
Her final words<br />
Don't be afriad<br />
<br />
On muddy ground<br />
I'm lying drunk on her grave<br />
Where I must wait<br />
Until she wakes<br />
The soil splits, Greenwood's<br />
ground wil quake beneath me<br />
And so shall take<br />
into the earth<br />
To the green light<br />
<br />
The autumn air<br />
thickly fille my lungs<br />
so sweetly<br />
Reminds me of<br />
your smoky breath<br />
With wine and this<br />
bouquet of maple<br />
and oak leaves<br />
In death or life we'll always be<br />
<br />
I find myself drawn to her<br />
shadow domain<br />
<br />
This moonlight night,<br />
late October swirling<br />
fog-glooom<br />
and as promised<br />
my love did rise<br />
from the green light'<br />
<br />
<br />
I'm going to be doing more of thier songs so please check it out. AND PLEASE PLEASE PLEASE leave a comment. i find this so cool and i think you should at least look at it. It was hard to do the arms, i used my own body as a refrence. so yeah COMMENT!!!
General Info
Comments
4
Media
Unspecified
Time Taken
Reference