Kimiko (another present for Animeer1414)
Kimiko (another present for Animeer1414)
Kimiko (another present for Animeer1414)
by
zopponde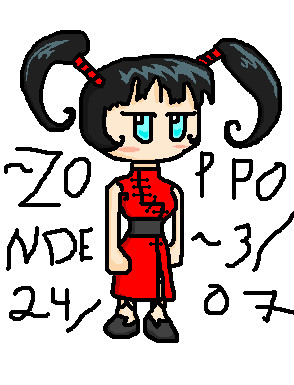 Description
Again, happy birthday to the Animeer.

I've now decided that I shall make two more pictures for you, and I'm not going to say who they are. (They're not Rai and Omi. I was going to put them into it, but my workload's growing too big as-is.) The reason why I'm drawing so much for Animeer instead of just leaving it with Clay is because I'm morbidly behind on presents for her. Really, at first I thought that I'd make six pics, but that was just too much effort.

I forgot to mention on the Clay picture, but that was my first time shading anything on Paint. And also (I think) the first time that I drew an actual person using only the painbrush tool. I've drawn more now, but it still needs perfection, and this is still only the second or third picture that I've shaded with Paint.

I SWEAR I'll have some of my Fruits Basket fanart up soon! I'm almost done with one of the pictures, but I need to throw on a few more finishing touches and actually submit it. Furthermore, I have enough other things to submit that even if it WAS done, I wouldn't be able to put it in.

Thank you for being patient. I hope you enjoyed, especially Animeer1414.