"Daddy why did you have to go"
"Daddy why did you have to go"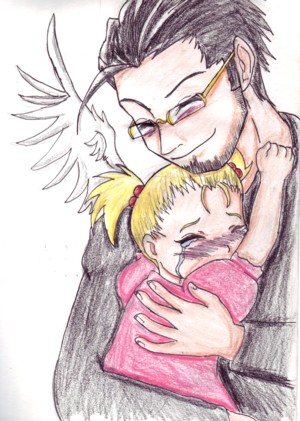 Description
"daddy..why did you have to leave me..why..?"

the coloring ended up shootty on this the scanner made it even worse i was trying to get it to look like my picture of Edward and Trish but it didn't oh well enjoy..::cries:: GOD HE WAS MY FAVORITE CHARACTER

WARNING: DO NOT GIVE OFF MAJOR SPOILERS OF THE ANIME LIKE THE ENDING OR DEATH'S DO NOT LIST NAMES AND DO NOT GIVE AWAY WHAT HAPPENS TO THOSE PEOPLE MUCH APPRECIATED. IF SPOILERS LIKE THAT ARE GIVEN YOUR COMMENT WILL BE DELETED. besides not everybody likes the ending to be ruined.