Some girl with big pants
Some girl with big pants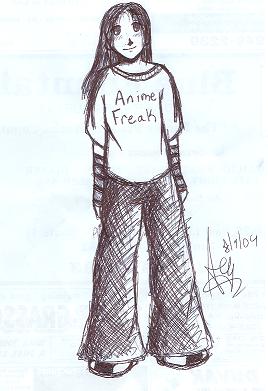 Description
Yes, it is a girl with big pants. SHe has my t-shirt on. But mine is black with japanese letters. We were in some diner when I drew this. And my younger brother told me he noticed a change in the way i draw my eyes. Bwa.<br />
<br />
SO yea, this is just a girl. And she's COOL. belieeeeeeeeeeve shes cool or i shall bwa you. (wait...wat??)<br />
<br />
requests:: 1 (for leemiester, sp??)<br />
my own ideas:: 2<br />
<br />
honest comments please o.o dundundunDUNDUN!!!!!
General Info
Comments
19
Media
Unspecified
Time Taken
Reference