One Year Anniversary
One Year Anniversary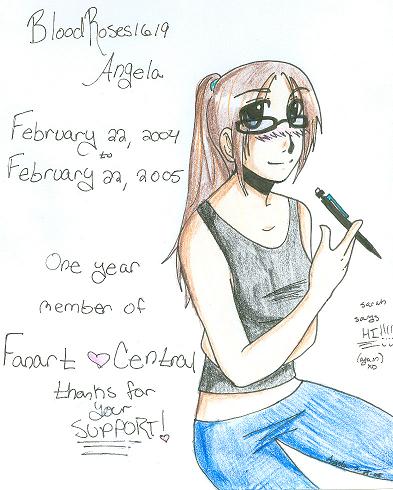 Description
It has officially been one year since I joined fanart-central on February 22. n_n Yay. Thanks again for everyone's support and comments. I really enjoy them. SO KEEP THEM COMING XDDDD!!!<br />
<br />
And there's me, with my pencil. Yes, that is the only pencil I use to draw. XDD;; Sad but true. AND MY NEW GLASSES =D They are square, like Chester's (from Linkin Park) glasses =DDD YAY XDDD Okay, so hope you likes the picture >w<<br />
<br />
I am also semi-starting a Fullmetal ALchemist doujinshi O.o ... cleverly titled "Drivers Ed" n_n vv00t.