TFA Raven
TFA Raven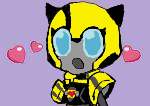 Description
Woohoo my fisrt piece of art that I'm posting! XD
I used a base for this from the website DevianArt (Bases are so addictive! XD)
Anyway this is my OC Raven! She used to be a techno organic like Sari, but Blackarachnia captured her and drained all of the organic half out of her by using a transwarp generator! O.o

Name: Raven
Faction: Autobot
Optic color: Baby blue
Height: About 14ft (Shorter than Bumblebee! XD)
Weapons: Stingers (They can shoot electricity and fire from a weird side effect after being turned 100% Cybertronian)
Age: translated into human years she's about 15!
Description: A small petite yellow, black, and grey Autobot femme with a bee logo on her chest plate, and two yellow stripes around her torso.