Samureon
Samureon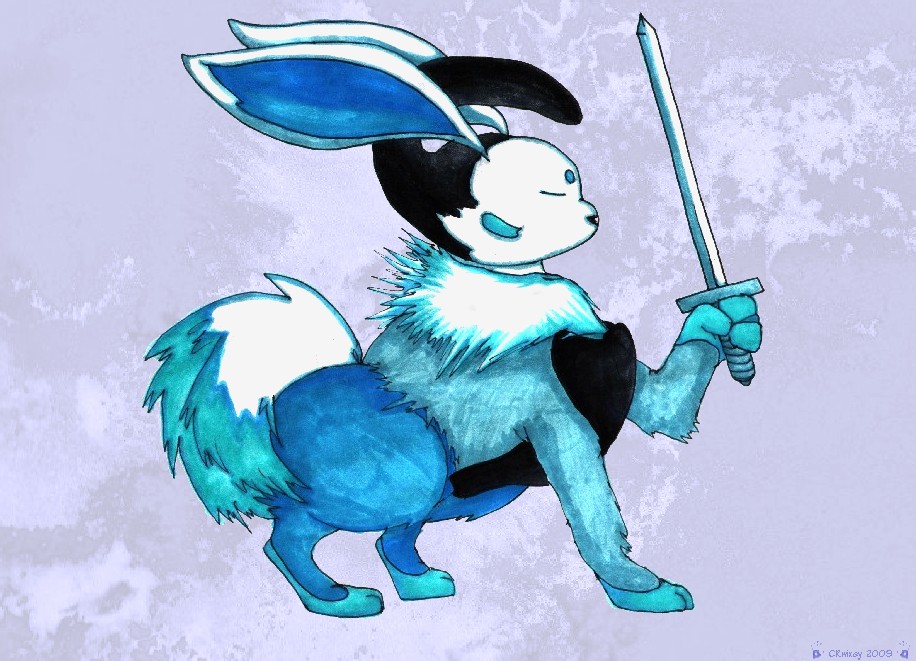 Description
Another new Eeveelution, a Fighting Type. This design was inspired by the samurai character from the game Rhythm Tengoku (you can see a short clip featuring him at
http://www.youtube.com/watch?v=yzt-5lM7hpQ
).
Sketched with a 0.5 mechanical pencil, inked with a 0.3 drawing pen, coloured with felt tips. Background added with Microsoft Photo Editor and Microsoft Paint. Comments welcome! :)
*Info*
Name:
Samureon
Attacks: Standard:
Quick Attack, Meditate, Double Team.
Lv 8 – Detect
Lv 16 – Double Hit
Lv 23 – Counter
Lv 30 – Slash
Lv 36 – Swords Dance
Lv 42 – Feint
Lv 47 – Double-Edge
Lv 52 – Close Combat
Evolution Level:
n/a (Eevee evolves into Samureon it levels up after surviving two Fighting Type attacks during a single battle).
Evolved Forms:
n/a
Location:
n/a
Type:
Fighting.
Description:
Samureon is a noble Eeveelution with a razor-sharp sword and reflexes to match. One of the few Pokemon who can actually wield a weapon, Samureon appear to have a thumb-like toe on each of its front paws, giving them greater dexterity.
Samureon can only use slash attacks if it is given a weapon before battle begins; otherwise it has to rely on its (none too shabby) physical strength to claim a victory. Despite its tenacity, Samureon are deeply introverted characters that can be very difficult to get close to, let alone understand. If there's one thing you can be sure of though, Samureon will always repay a Trainer's kindness with unwavering loyalty and dedication.
Pokemon (c) Nintendo/Game Freak.
Rhythm Tengoku characters (c) Nintendo/J.P.Room.
Samureon (c) CRwixey.