Elvin crashes his computer
Elvin crashes his computer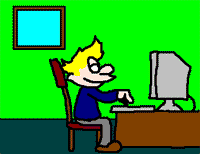 Description
Not realy a fan art, but fan art take some time to do, so I decided "Why don`t try my skillz as an animator?" So this is my GIF of one of my friends take out his anger on both the computer and his worst enemy, Jonatann! (Tann stands for tooth).
Rated PG-13 for some bad language you don`t actually hear, and don`t worry about the little yellow beast, It decerved it.

BTW: A little inspired from a short clip on the net i saw.