The Lost Three - Recharging
The Lost Three - Recharging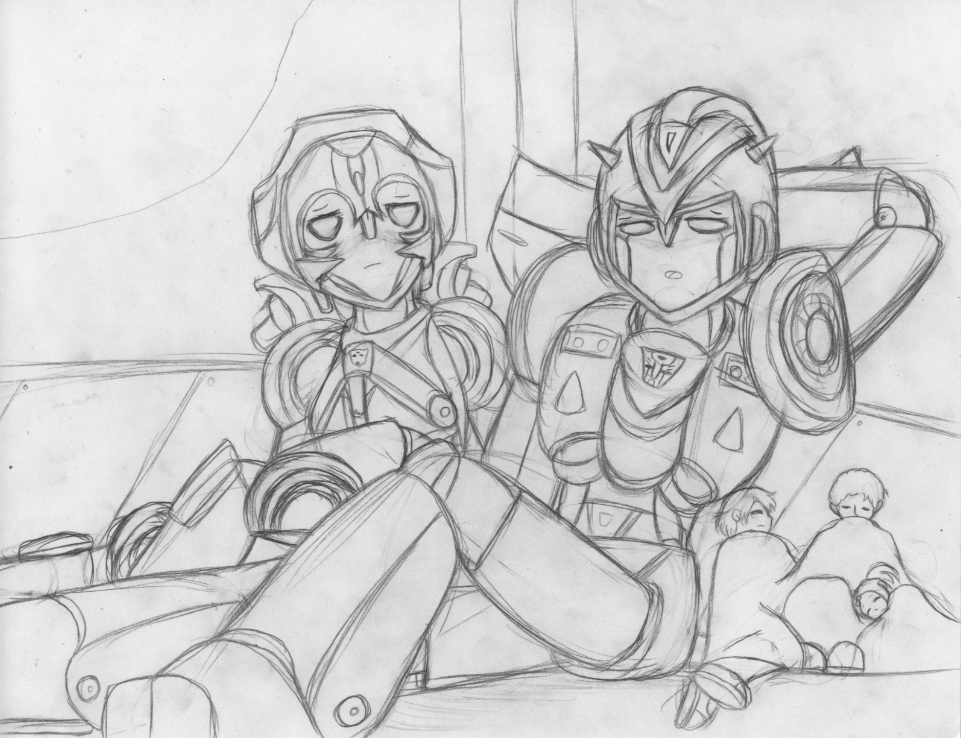 Description
'The two Autobots have found a place to let their human partners 'recharge' before continuing on their way through the ruins of Cybertron, in search for any other surviving Autobots.'
Bumblebee: "Are we all that's left? I'd like to believe others are out there… Online, somewhere. But as time goes by, I can't seem to believe it anymore. We've been searching for so long… Now we have three humans the Decepticons are after and I have no idea why. I was sure we were finally able to keep the humans out of this fight… This is becoming frustrating."
Acree: "Bumblebee…"
Bumblebee: "Can you honestly tell me we'll find any Autobots still online?"
Arcee: "I have faith in you."
Bumblebee: "That's not wha--"
Arcee: "We'll find them. I'm not giving up."
Bumblebee: "…I hope so."
Arcee: *smiles* "We have a long road ahead of us, to find the others. Don't let your doubts and your past mistakes slow you down and cause you to fall behind me, okay?"
Bumblebee: "..."
Arcee: "Cheer up, Bumblebee. That frown doesn't suit you."
When I went to start drawing a pic of Arcee and Bumblebee, movie style, my story 'The Lost Three' popped into my head and I started workin' on a part of it instead. :P
'The Lost Three' is a comic idea I'm workin' on along with the other short stories I'm workin' on with my sister. Though this particular comic is more of my project, she throws in her ideas as well. :D
It's mainly about the Kicker Jones, Spike Witwicky, and Sari Sumdac. Three different people from different universes of Transformers ending up in one universe that seems to be doing worse off than all three combined.
They find themselves having to work together to figure out what happened to the ruined world of Cybertron, why they were sent there, why they are being chased by Decepticons, as well as try to find their way home.
They get lucky when they find this universe's Bumblebee and Arcee, who've been searching for their fallen allies, as well as Vector Sigma.
The three different universes of Transformers try to figure out what happened to their friend who suddenly disappeared, unsure if they'll ever see them again.
I haven't done much for it yet, but I did add Arcee into the story. I went with a mix of designs for this, goin' with some of the movie design along with G1 and Animated. A good deal of Arcee's inspired design is credited too
http://foxelie17.deviantart.com/
giving me permission to use it. XP
I don't like the movie's faces for the Transformers and I just about love the way she drew Arcee so I took that up.