Lara's Last Scream
Lara's Last Scream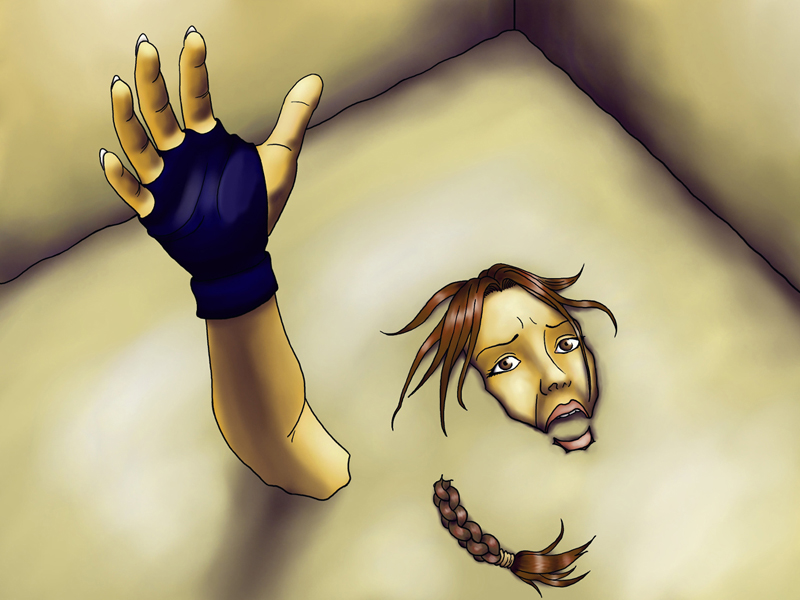 Description
During what she thought would be a routine grave robbing mission, Lara found herself ensnared in an ancient, yet still quite diabolical trap. As she walked across an open stone floor, an average-looking stone tile swung open beneath her. Having had no encounters with any danger during the entire expedition, Lara had become too complacent, and did not react in time to catch herself. It felt as though it would be a long fall with a painful impact, but her feet hit a soft patch of sand.<br />
<br />
Lara looked upward, the sun beating back down on her in return. Though she had been inside, there was a large skylight directly over this pit. She investigated the walls, looking for any handholds she could use to climb out, but the four walls were strong and sheer. Suddenly, Lara realized that her feet were continuing to sink into the sand. She tried to lift a leg out, but the extra weight on her other leg forced it downward even more. Obviously, the fall wasn't the only part of the trap.<br />
<br />
Several minutes later, Lara was up to her waist in the sand. She told herself not to panic; she had been in quicksand herself and lived. If this was like normal quicksand, she should float once she sank down to her chest, and then she'd have all the time she needed to formulate her escape.<br />
<br />
There was only one problem. This was not ordinary quicksand, but a special mixture created by the ancient people who once occupied this ruin. A person would not reach buoyancy at any point during their sinking. Instead, they would simply sink to the very bottom of the pit. Lara eventually found herself up to her face in the quicksand, having to arch her head back just to keep her mouth above the surface. She had already lost one arm below the surface in an unwise attempt to push herself out, and trying to pull it out would only cause her to submerge instantly. She reached out with her free arm, and just as the sand touched the sides of her lips, she inexplicably screamed, or at least tried to. At the very moment Lara opened her mouth, the sand came over the sides and filled it completely. Her very last scream was stifled by sand rushing into her mouth, and into her windpipe and lungs.
General Info
Comments
12
Media
Unspecified
Time Taken
Reference