The Stalker
The Stalker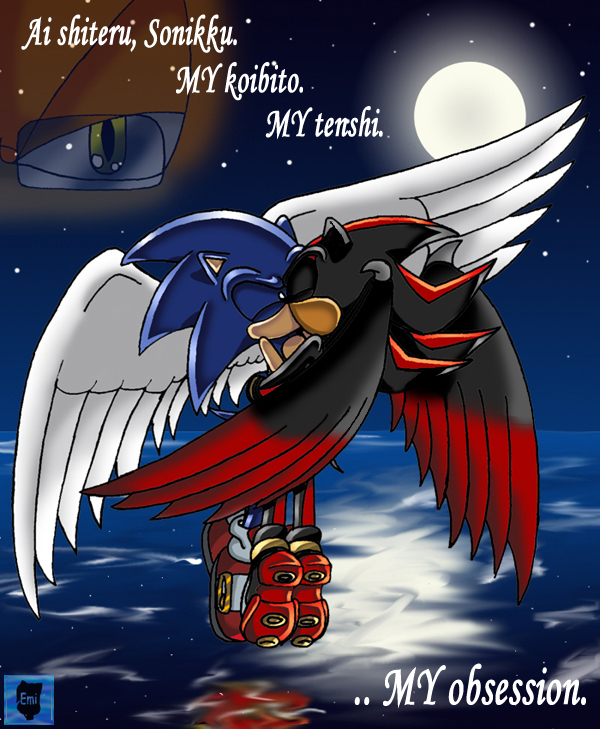 Description
I read this sonadow stroy it it's got me hooked for life. Anyway a scene from the stroy made it stand out to me, and I really wanted to draw it. So here it is.

Here's a teaser from the stroy that goes with this pic.
---------------------------------------- --------
A figure, darkened by the moonlight, watched the two hedgehogs. He flew off of his perch, settling
down on one of the sharp rocks, balancing easily. His fangs were bared, glistening with venom as his
eyes glowed softly with fury.

"He is supposed to be mine


A wave crashed against his rock, threatening to splash him with ferocity if he did not move. He stood his
ground.

"Only mine.." His eyes glowed even brighter. A wave roared again. He merely stared at it as the wave
towered over him. He hissed.

In a matter of seconds, it was frozen solid by his stare alone.

"Shadow.." He growled at the thought of his name. "So I have finally seen you.. I would hear Sonikku
cry out your name in his sleep at night, gripping at his pillow desperately.. how dare you make him fall in
love." He turned his gaze away from the frozen wave, and looked at his gloved hand, curling it into a fist.

"Love has a high price, Shadow. Remember that."

He smirked as his large wings loomed over his body, chuckling to himself with an insane glint in his eyes.

"Ai shooteru, Sonikku. MY koibito. My tenshi


He spread his wings and took flight, his quills ruffled by the harsh wind that blew against him.

".. My obsession."

Little did Sonic and Shadow know, they were about to face the ultimate test of pure love.
---------------------------------------- -------
Bad news SHE DELETED HER STROY. (Crys)
---------------------------------------- -------

I am very proud of this pic cause it came out how I wanted it to, and I did the background by hand and I'm happy how it came out.

Well I hope you guys really like it cause I don't want to feel I did will this effort for nothing.

Stroy Copyright A Shadow in the Light.
Characters Copyright Sega.
General Info
| | | | |
| --- | --- | --- | --- |
| Ratings | | Comments | 44 |
| Category | Comics » Sonic the Hedgehog | Media | Digital drawing or painting |
| Date Submitted | | Time Taken | |
| Views | 3837 | Reference | |
| Favorites... | 29 | Keywords | Sonadow |
| Vote Score | 8 | License | Berne Convention |