*Broken Love*
*Broken Love*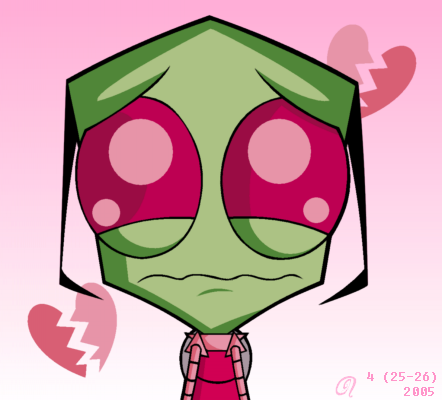 Description
Uh oh. Don't think I shoulda told him the truth about his mission . . .<br />
<br />
Heh heh. Yeah, this picture actually has no reason to it at all. I was thinking -there's something new- about what to draw, and it kinda just popped up in my head. So...<br />
<br />
AAAAAAAAAAAAAAWWWWWWWWWWWW!!!!!!!!!!! In'n it just too cute for words?!?!? In'n it?!? IN'N IT?!?!? It really is. I printed a copy for my best friend, Brittany, and the first thing she said . . .<br />
"Aaaaawwwww!"<br />
And when she showed it to our friends at lunch...<br />
"Aaaaawwwww!"<br />
<br />
Mmyep. *pause* Aaww! Poor little Zimmy! He looks like he's about to cry! Oh, wait, he is.<br />
<br />
<br />
*thinks again....really hard.....* Maybe I should make another picture of Zim...?