Inuyasha
Inuyasha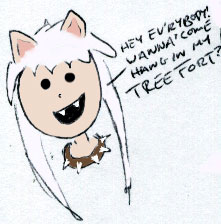 Description
This is my first picture of the dog boy himself. After talking to some people and keeping Inu-Yasha on while I was trying to fall asleep, I decided to take a poke at drawing him.<br />
<br />
I don't watch the show, but I did notice (like anyone else with eyes and cognitive skills) that Inuyasha seems to like trees. Given that, I thought that he might eventually build himself a tree fort and invite his friends to "come hang" in it.<br />
<br />
Now that I'm looking at it here, my drawing looks less and less like the dude himself and more like Charlie Brown in an Inuyasha costume. Who knew?