Zusammen Beginnen Wir pg 11
Zusammen Beginnen Wir pg 11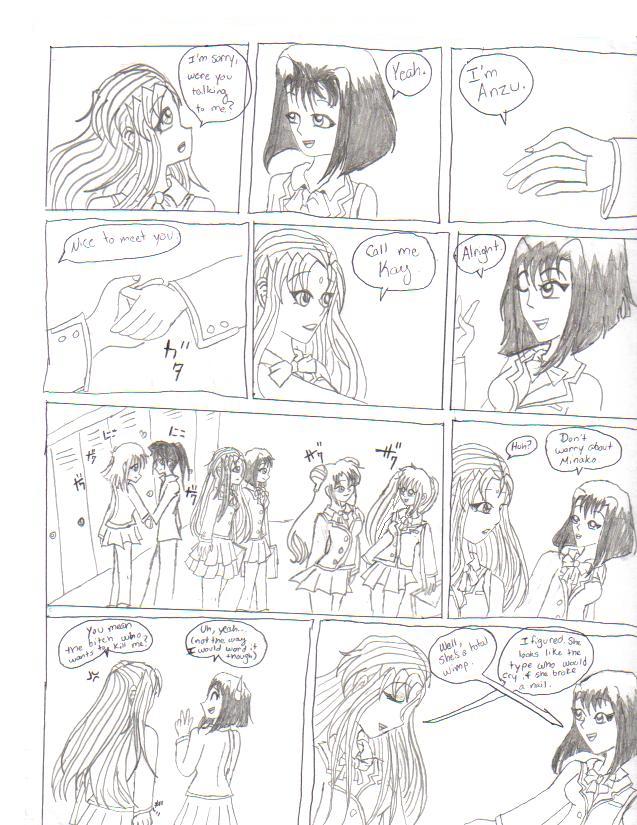 Description
HUZZAH! I finally got tihd up. It would have been up sooner, but I accidently deleted it from my computer and so yeah. I have a shout out to Tiffany, Ranpha, and Jackie in that one panel. YAY!

Kay: I'm sorry, were oyu talking to me?

Anzu: Yeah. I'm Anzu. *Holds out hand*

Kay: *shales her hand* Nice to meet you. Call me Kay.

Anzu: (god, that pic of her sucked >_<) *Peace sign* Alright.

*Walking in hallway. Duke and Tiffany are holding hands, Jackie is talking to Ranpha*

Anzu: Don't worry about Minako.

Kay: Huh? You mean the dog who wants to kill me.

Anzu: Uh...yeah... (not the way I would word it though) Well, she is a total wimp.

Kay: I figured. She looks like the type who would cry if she broke a nail.

HUZZAH! I hope you enjoyed it.
General Info
Comments
14
Media
Graphite pencil
Time Taken
A few hours
Reference
A pic of Anzu