I want your heart...I want you to love me
I want your heart...I want you to love me
I want your heart...I want you to love me
by
KionaKina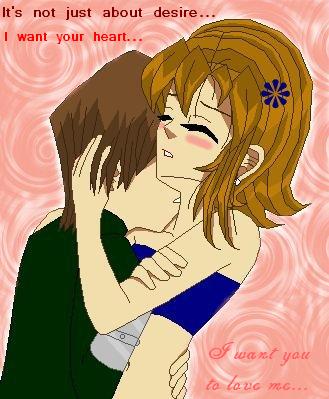 Description
GAH!!! This took WAY too long. But I'm so proud. PLEASE fave this one. This Ryuuzaship pic deserves a lot of faves. It's one of my bests! I'VE NEVER BEEN ABLE TO DRAW ANYONE KISSING SOMEONE'S NECK!! HAVE MERCY ON ME!!
Before I forget, I used this pic as a referance. Now it's a yaoi pic so I'll just provide the link and not the pic to avoid scarring of those agaisnt yaoi
http://i133.photobucket.com/albums/q41/Nintendo_Queen/1153265061_mine2.jpg
Ok, um, Seto is basically kissing her neck. This probably won't happen in my series, BUT, if it did, it'd be during KC Grand Prix. Because that's Kay's signature hairstyle during that part. I got the idea from an edit pic I did and I loved how her hair came out. (The pic should be my profile pic if you want to look) She also wears the Battle City outfit, except her jeans are different. (But you can't see it)
And I didn't forget her choker it's just that Seto took it off of her and I think it's kinda obvious why.
So...ya. I'm proud, I thrive on favorites, they make me happy, I hope you like the pic. It took long enough. Hours...HOURS
Background, blushing, and Kay's little flower done on Jasc Paintshop Pro
Coloring and words done on MS Paint
Drawing done by hand by the art stylings of me.
General Info
Comments
54
Media
MS Paint
Time Taken
How many hours?
Reference
The link is in my author note