Jade Lily
Jade Lily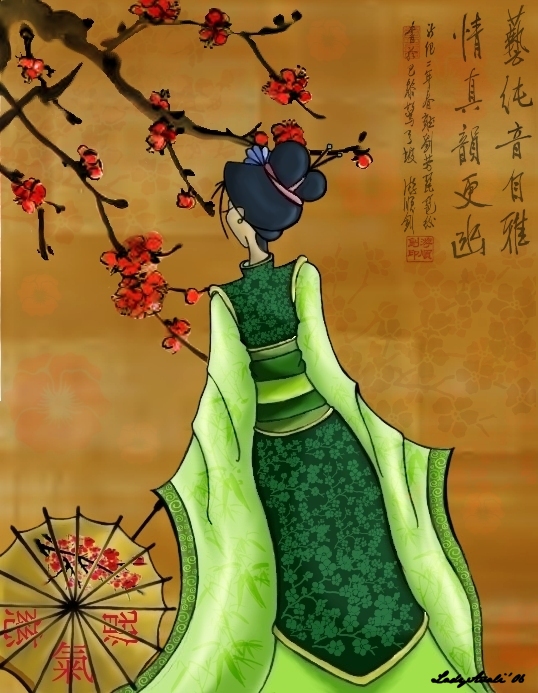 Description
    Whoa...I have just made a MAJOR breakthrough on Paint Shop. I can do shading now!!!!! *victory dance inserted here along with airy music* It's so amazing what you can do with a mouse! Seriously, and the smudge tool is my new best friend!!!!  Anyways, I know this is a strange angle. Her umbrella is supposed to be sweeping behind her, and her hands are covered by her silk sleeves. I took liberty on this and just added my own designs, but I LOVE her kimono. The cherry blossoms, bamboo, and swirls on her dress too forever not to mention the thousands of layers I used, but the labor was worth it! This has got to be my best piece yet! Hee hee
 
       Oh, also the calligraphy besides her translates, "Art pure music itself elegant, Love true melody (touches the heart) deep." It is not mine, but if you wish to know the name of the artist, let me know.  comments are always deeply appreciated!    
 
Avali*

Edit 2/13/07: Figured out how to upload my photoshop images so that they come out clearer! Woo-hoo! Thanks to the almighty master of computer graphix-Cady dearest!
General Info
Comments
6
Media
Digital drawing or painting
Time Taken
3 days
Reference