Ivan the Manslave: Super Hero Day
Ivan the Manslave: Super Hero Day
Ivan the Manslave: Super Hero Day
by
MeruMeru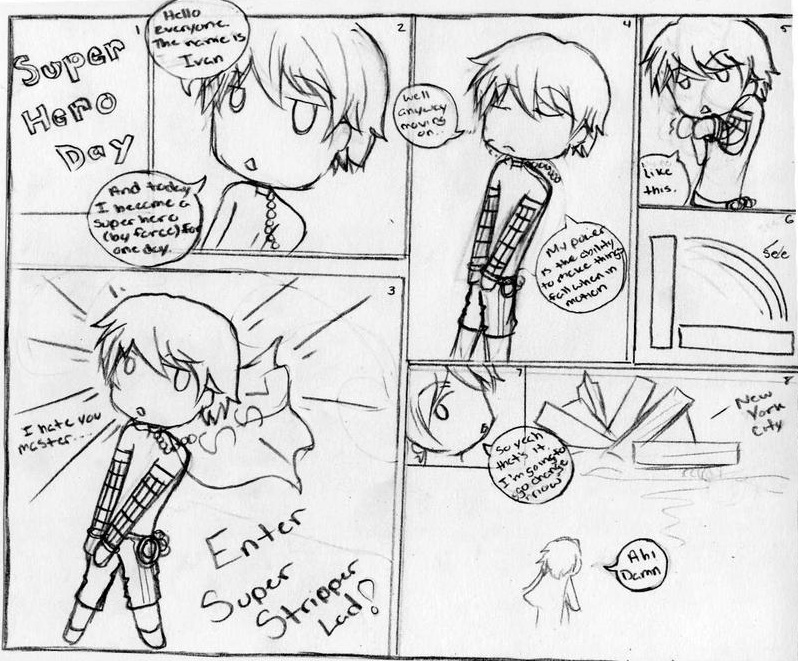 Description
Here is Ivan....my manslave.

But yeah, I might actually make a whole seires of comics about him and sh*t I put him through. Lol. Like this.

At school is was Super Hero/Villian. And I didn''t dress up. So I made one. I transformed, for one day, Ivan into "Super Stripper Lad". Don''t ask me how I got that name >_>

For those who can''t read my writing:
Panel 1

Panel 2 "Hello everyone. My name is Ivan. And today I became a super hero (by force)for one day."

Panel 3 I hate you Master.....

Panel 4 "Well anyway, moving on. My power is the ability to make things fall when in motion."

Panel 5 "Like this."

Panel 6 See.

Panel 7 "So yeah, that''s it. I''m going to go change now."

Panel 8 "Ah! Damn."
General Info
Comments
4
Media
Graphite pencil
Time Taken
Reference