Monica
Monica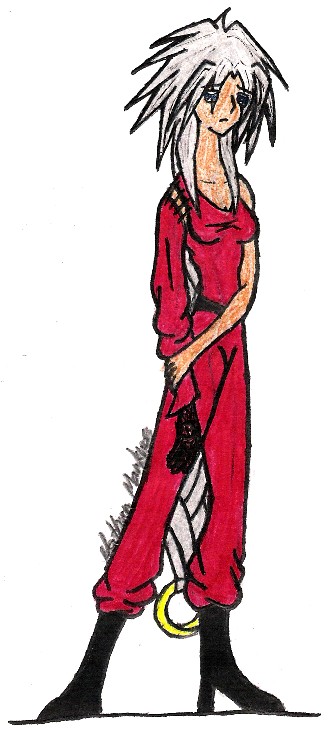 Description
This was drawn a little while ago, not exactly sure when, but this is Monica Sindel, more commonly known as Moonfire. She is the female incarnation of Sunfire's brother, made exclusively for Wrenna's story Annoyed Acquaintences, Unknown Lovers, on fanfiction.net. It's a wonderful tale of Robin and Raven, who hate each other in real life, yet find love on the internet. It's very good.

You might be wondering why she's so sad, well, she is because she's showing right hand, which was disfigured in a fire, where a flaming beam had set her pajama top on fire, and carved the crescent moon shape into the back of her hand. Normally she keeps her hand, and most of her lower arm covered by a glove and that long sleeve, but I figured everyone should see it. That scar is what prompted her brother to give her the nickname "Moonfire", which she is called by just about everyone; since not many people know her name is Monica, and that's pretty much the way she likes it.

Anyway, go check out AAUL and AAUL2, perhaps more readers and more reviews will prompt Wren to get typing. Oh, and don't forget to check out her gallery too.
General Info
Comments
1
Media
Unspecified
Time Taken
Reference