sleep when you're dead
sleep when you're dead
sleep when you're dead
by
Nyah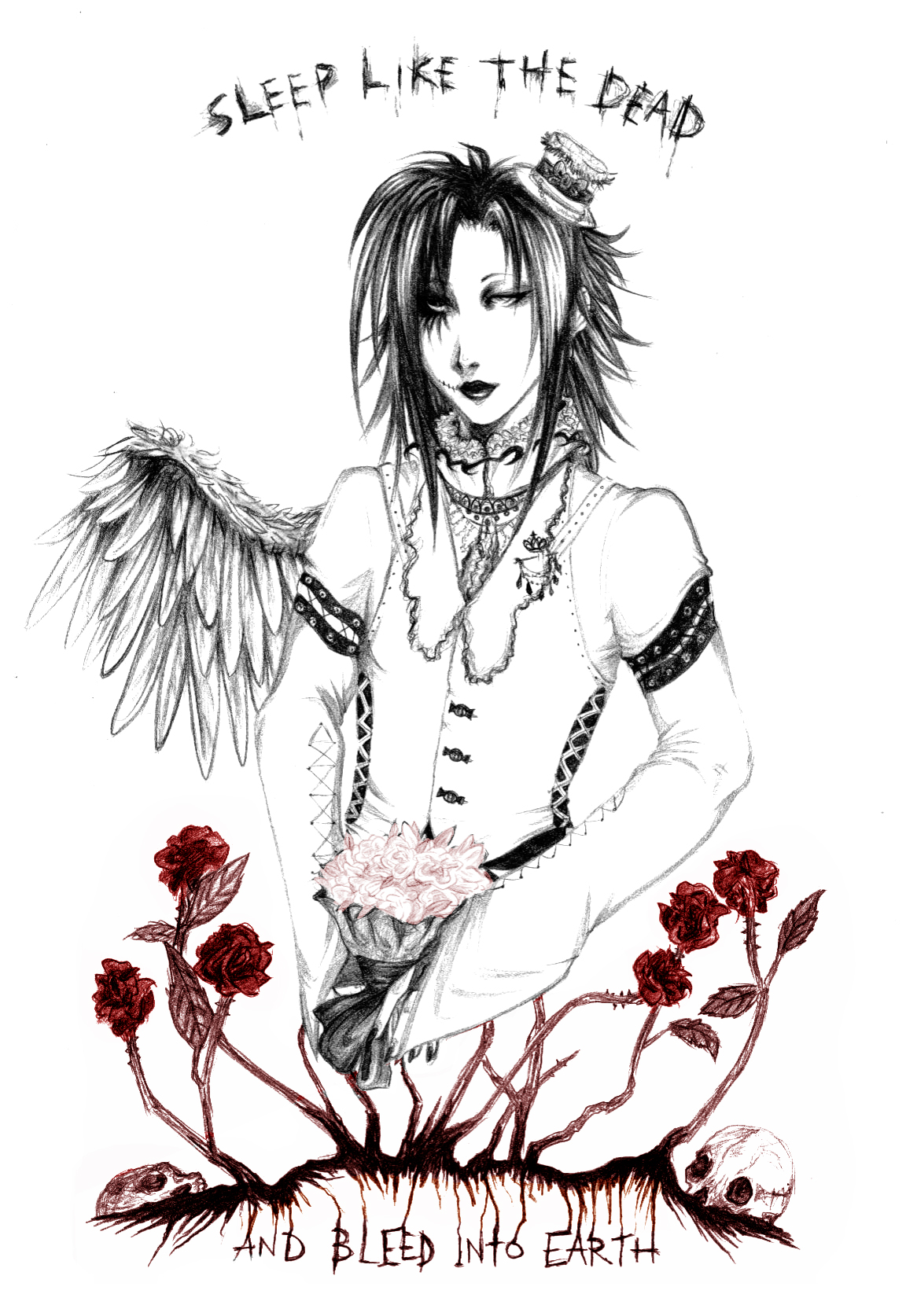 Description
o\ OMG something I actually like myself. Kigan is a man ok! He's just very feminine.
Anyway Kigan (who may seem familiar) of my fictional OC band GateCrasher in his 'sleep like the dead' pv outfit.
Lots of influence from this
http://img405.imageshack.us/img405/6323/ranshincure1519xt9.jpg
pic of Tomoyuki of 12012 which is one of my fav J-rock photoshoots EVER. The whole 12012 set is. I would kill for that issue of Cure ;o;
I wanted to make Kigan a bit EGL/EGA and delicate looking hope it worked. Roses are a proper dog to draw DX skulls drawn without reference so if they suck there you go.
1 angel wing is Kigan's thing, he has a single angel wing tattoo on his back. But no he's not a one winged angel ripoff thing like Sephiroth.
It's more like '1 wing for the damaged/wounded angel with the devils eye' The band call him an angel because he's too nice but the devils eye thing represents his sudden change when he gets angry/annoyed etc.
Deity should be next.
I have paypal now and to celebrate I am offering $10 pencil work commissions *like this maybe*. If you are interested reply/PM/e-mail.*pimps self XD* If you are interested in a more detailed commission then contact and we'll discuss it.
General Info
Comments
10
Media
Graphite pencil
Time Taken
1-2 days on and off
Reference
Tomoyuki Enya of 12012