Contest Time!!LOOK PLEASE!
Contest Time!!LOOK PLEASE!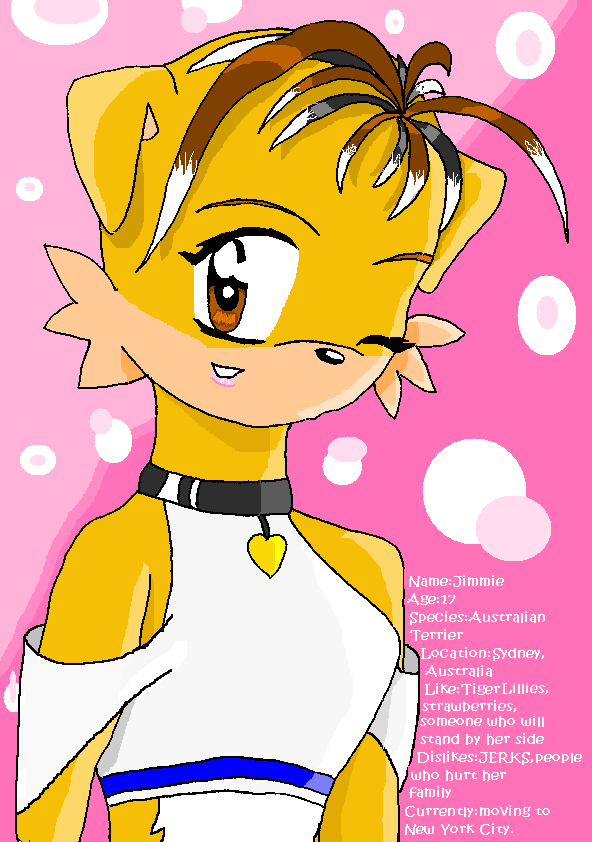 Description
Ok since Jimmie didn't win Elastigirl's contest,and i REALLY like this character,i decided to make my own contest:D.the contest is to make a match for Jimmie.
Rules: 1.u can include jimmie in the pic if u want,BUT they CAN'T kissing or huggin or anything like that
2.it has to be in the canine species to match up for her!but it can be any breed
3.dont say stuff like "oh this is crap i dont like it but i'll enter it anyway"or anything like that!DO YOUR BEST
4.HAVE FUN
contest end september 1 ok?
UPDATE!!!:the contest deadline is now sept. 25 ppl!please enter ;_;

P.S. use her likes,dislikes,location and stuff to your advatage;).it may score u some points the way u use them
I WONT BE HERE FOR A WEEK SO TELL ME ON MY PROFILE WHEN U MAKE AN ENTRY OR IT WONT BE COUNTED!!!!!
General Info
Comments
7
Media
Unspecified
Time Taken
Reference