Winter for Yokko
Winter for Yokko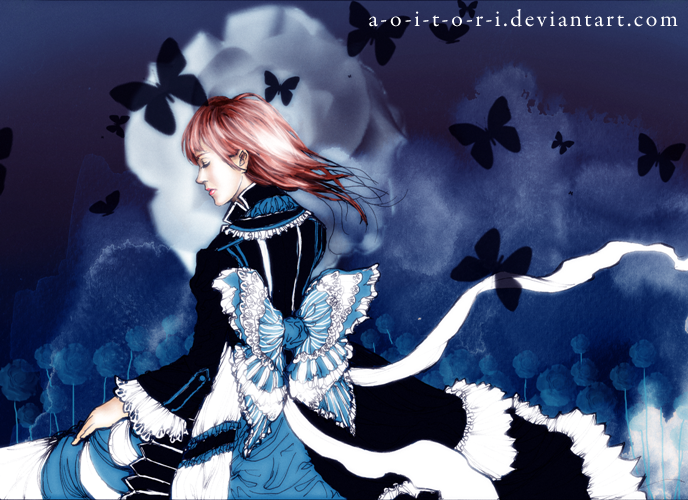 Description
Something new from me!
Finally...
(so I'm assuming no one will see this)
I know I've ignored updating for months now since I'm too much of a perfectionist and should just leave my works as they are and post them up so I can see my progression. Ok enough of me... to the artwork!
Initially a Spring entry for
Yokko.deviantart.com
's season contest but it eventually turned into a Winter theme. (I just love blue too much...:)) I knew the competition was off so then it will just be an artwork dedicated to Yokko whose artwork is refreshing and has a unique flair. :D
The lady depicted is fashioned in a Victorian themed dress.
Utensils:
Mechanical Pencil 2B 0.7
Inked with some random pen I found... (I bothered to check now... it was a Unipin 0.1)
All of it coloured on Photoshop. I used those free brushes which came with photoshop (i.e. butterflies, roses) and overdid the picture with them! hahaha.. so noob.
I used
meisan.deviantart.com
's watercolour texture for fun and thought the outcome looked really interesting so kept it in the final piece. (and plus I fail at watercolour and i was really excited...) Her style inspires me. This is where I got her awesome texture pack.
http://meisan.deviantart.com/art/5-WATER-COLOR-TEXTURE-PACK-123401719?offset=25#comments
Enjoy.
and yes, if you want to view it on devianart for some odd reason:
http://a-o-i-t-o-r-i.deviantart.com/art/Winter-for-Yokko-137104735
If you did check, you must have noticed how lazy I was as I pretty much implanted the description from there and put it here. : )