Kiriban Request Conversation
Kiriban Request Conversation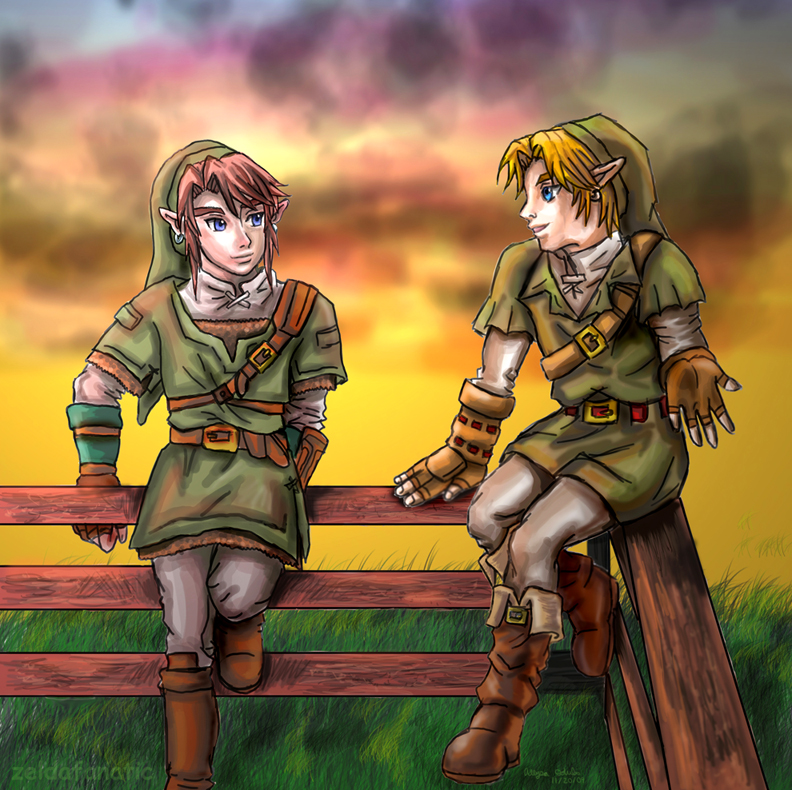 Description
HEEEEYYY!~ long time no post >< dumb title i know DX

im sorry if the request took forever~ but i hope you like though >.<
Clopina :D

Clopinas request: Hmm letsee... can I ask for a pic of OoT Link and TP Link sitting together on a fence? (lol I know that's strange but I'm sure they could have been friends if they knew each other *w*;; )
Background: if that's possible, I would love a sunset/almost night one 8D
Expression - I would love to see them smiling, maybe looking at each other? xDDD

A/N: I made OOT Link smaller than TP Link since TP Link is a bit older XD. Took
the background idea from the photo i took from Wisconsin. They look girly don't they?
0_o XDD~ Hmmm I wonder what they are talking about? From what I see it, it must be
very interesting topic since they are smiling at each other XD. Hope the pic isn't too dark.
General Info
| | | | |
| --- | --- | --- | --- |
| Ratings | | Comments | 15 |
| Category | Games » - by Publisher » Nintendo » Legend of Zelda series | Media | Other digital art |
| Date Submitted | | Time Taken | lost count |
| Views | 1315 | Reference | stock photos |
| Favorites... | 3 | Keywords | The, Legend, of, Zelda, LOZ, Twilight, Princess, Link, Ocarina, of, Time, Link, clopina |
| Vote Score | 4 | License | Berne Convention |