The preparation of dinner
The preparation of dinner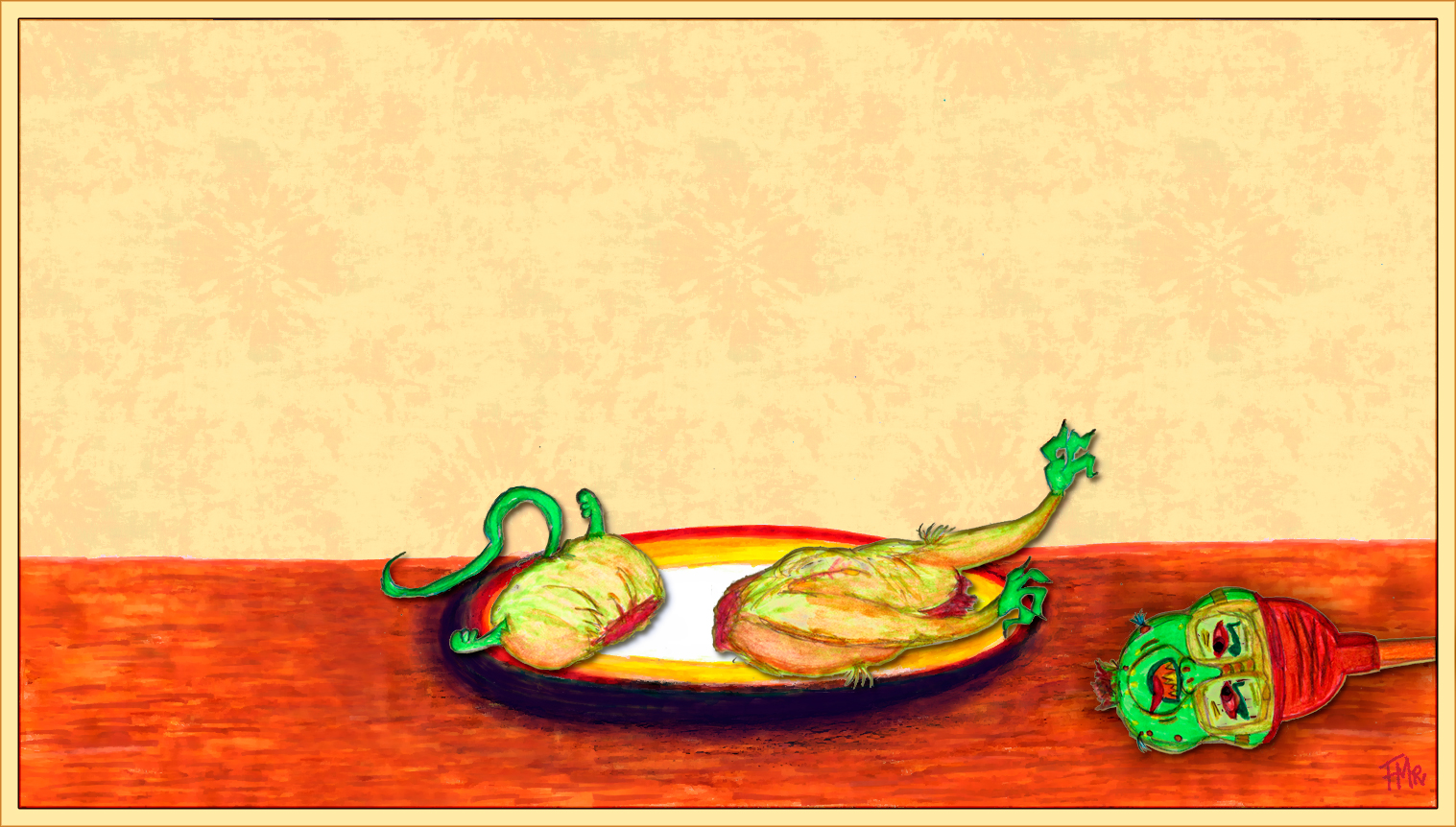 Description
The preparation of dinner
Mrs Kitty Kat has been hunting all day long in the neighbourhood, but in vain.
It is a residential place of high standard here, peaceful, very neat and tidy.
So, finally she decided to go to the slum area, behind the railway station.
That is the place where all the vermins proliferate.
She was very lucky.
She quickly saw a fat one who was foraging in the garbage of a big red dumpster.
Such an easy prey!
It was fat, and it was stoned, so it could not even run away.
A small squeal of surprise, and it was over.
Now, it is high time to prepare dinner for the little one.
He is always grumpy when he is hungry!
-----
This artwork is based on Ogrelope, a character created by a very talented friend, TeeJay87.  
http://www.fanart-central.net/user/TeeJay87/profile
He gave me permission to use it.
His original artwork is here:
http://www.fanart-central.net/pictures/user/TeeJay87/843368/Ogrelope-Trapspringer
This is a small present for TeeJay87. 
-----
I was scribbling and sketching the character of Ogrelope, searching for ideas...
Then I realized that the rough was interesting like that and I decided to keep it as it was, and integer it in an artwork. 
Ogrelope:  drawn with water based felt pens on basic inkjet paper  --  80g/m2
kitchen table: drawn with markers on Canson XL Marker --  70g/m2 
Then the elements have been assembled and integrated in PS
Kitchen wall:  pattern added in PS
(framed in PS)  
General Info
Comments
8
Media
Ink or markers
Time Taken
Reference