Lulu and an EVIL Moogle of DOOOM (redundancy!!!)
Lulu and an EVIL Moogle of DOOOM (redundancy!!!)
Lulu and an EVIL Moogle of DOOOM (redundancy!!!)
by
Shearay752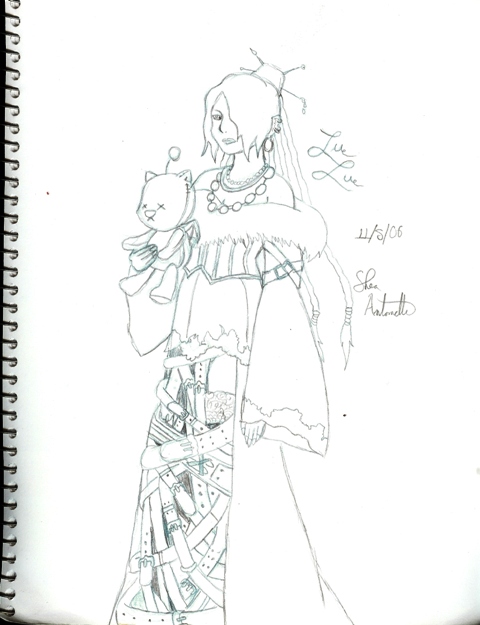 Description
umm..it's Lulu from Final fantasy
i HATE moogles
but her demon possessed lifeless pawn doll moogles are pretty cool
(man that was a long description)
well anyways
i totally want to CG this
those belts are MURDER
enjoy

btw i umm...EDITED her some
seeing as every picture i found showed a little more cleavage than what was needed
d'arvit you ero game makers!!!!!

LATER THAT DAY

HOLY...MONKEY
ATLEAST 12 OTHER PEOPLE ON THIS SITE ALONE HAVE DRAWN THE SAME PICTURE
THAT TOTALLY SUCKS!!!!!!!!!!
SEEING AS I PUT A LOT OF EFFORT INTO IT JUST TO FIND OUT...
MAN THIS SUCKS...
WELL...THAT SUCKS....
HOW MANY TIMES HAVE I SAID THAT IT SUCKS?
BUT IT REALLY DOES...
MAN...THAT FREAKIN SUCKS
WHAT REALLY SUCKS IS THE FACT THAT I HAD A CRAPPY PIXELATED PICTURE TO DRAW FROM SO IT'S NOT AS DETAILED AS SOME OF THE OTHER 12
MAN...
THAT SUCKS...

SO ANYWAYS

PLEASE
COMMENT!!!!!!!!!!!!!!!!!!!!

OR THE EVIL MOOGLE ARMY (ALL 13 OF THEM!!!!!!!!!!) WILL KIIIIIIIIIIIIIIILL YOU!!!!!!