Eternal Sailor Pluto
Eternal Sailor Pluto
Eternal Sailor Pluto
by
Sliv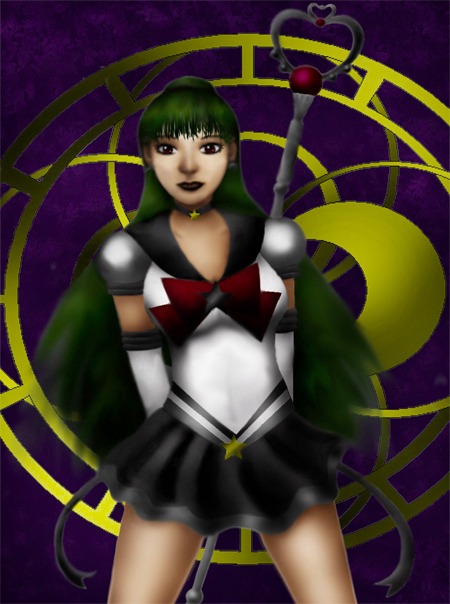 Description
So this was my first attempt at drawing a Sailor Senshi from scratch on photoshop. The only other pictures I've made in this style were one of Nayru for the Legend of Zelda:Oracle of Ages and a Dark Elf that I haven't yet completed. So you could say I really don't have much experience with this style.

I use Photoshop CS 8.0. For some reason, this version doesn't seem to have a Selection Brush (if anyone knows where to find it, PLEASE tell me, I've looked everywhere for it!). Because of this, it makes it quite difficult to color whites and blacks, so I initially made most of her fuku in shades of grey, and uses the dodge and burn tools to lighten and darken the areas respectively.

After I was about a quarter of the way into the pic, it didn't look right. I thought her breasts may have been too big, but when I checked her proportions they were ok. I thought she may have been too tall, but she didn't look any better when I shortened it. Turns out, her chest was too long (the bit between her collarbone and the bow). I think i fixed it, but if it doesn't look right to you, let me know and I'll try to improve in that area next time.

Some other problems I ran into... her bow, it was really hard to get the shape right. Same deal with the garnet rod, it was hard to make the heart shape symmetrical. And I couldn't get her face right, brobably because I wasn't sure whether I was aiming for a manga-style or realistic pic. So I think it's somewhere in between. Oh, and I forgot to do her tiara before I did her fringe (which looks like a mop).