Lover Bitch
Lover Bitch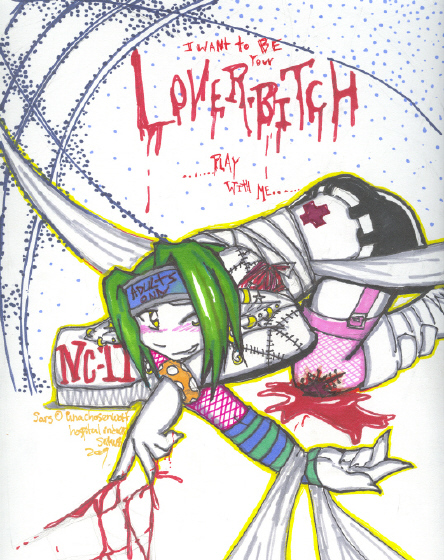 Description
Its Sars! My baby! I thought id never see him again! Well, my styles changed alot since the "death" of hospital induced sickness, so naturally, Sars looks different...Alot diffenrt. (i think he gained a little weight too...) Someone pointed out that my new drawings are a lot less "dark" then they were before And that that was a bad thing. Well.. yes my stuff isnt as angry as it was before..simple becuase im not pissed off at the world as much as i used to be, sorry if my happyness ruined my art. *Nyaaahhh, frack all of you* <br />
<br />
And no, that pose is not impossible if your living dead... Like my beautiful freak here. His figures a little girlish here..but after all, hes a cross dresser in a black leather miniskirt.. what else do u want from me? <br />
<br />
<br />
<br />
<br />
Im thinkign of Changing my account, since im posting new art after almost a year of being gone... <br />
<br />
Ill tel u when i do, my old art is embaressing.
General Info
Comments
38
Media
Unspecified
Time Taken
Reference