ACEOs - Crying Queen
ACEOs - Crying Queen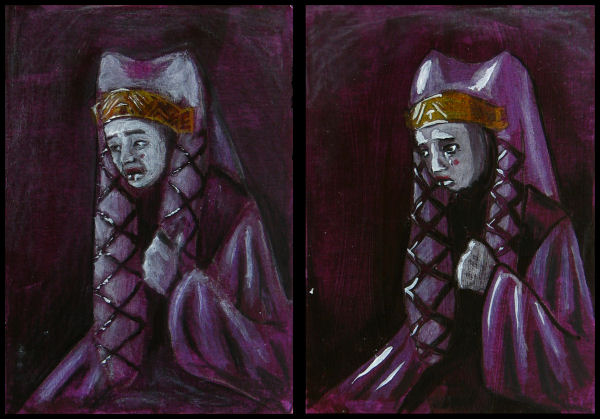 Description
Wow ... 10 % are done!

Yes, this is "already" number 10 out of 100 pics. An ACEO card again, but the last in a while. Bigger formats are easier to handle.

So, ladies and gentlemen - on the left you see Padme Amidala, the 14 year old queen of Naboo, who escaped a planet under siege, is threatened with mass murder on her people, got sent away by the ruling government, just initiated a coup against said government and is about to return to Naboo to lead yet another people to war.
Well, that would certainly freak ME out and I'm not exactly a teenager anymore.

On the right, you see my completely crappy attempt to simplify this picture into something that could remotely resemble any kind of manga or anime style. As you can see, I failed miserably.
I'm still posting it here to my everlasting shame, so you guys see that I am not perfect in any way. I screw up pics just as badly as anyone else, therefore you are more than encouraged to tell me any mistakes you spot in my work.

Ok, a foundation of acrylics, colored pencil for basic colors, white pastels for contrast and oil paints for highlights ... and yes, all of this is crammed on 6,4x8,9cm cardboard.
General Info
Comments
1
Media
Colored Pencil / Crayon
Time Taken
~ 2h
Reference
Several costume photos for the gown and makeup