Ajax and Dawn
Ajax and Dawn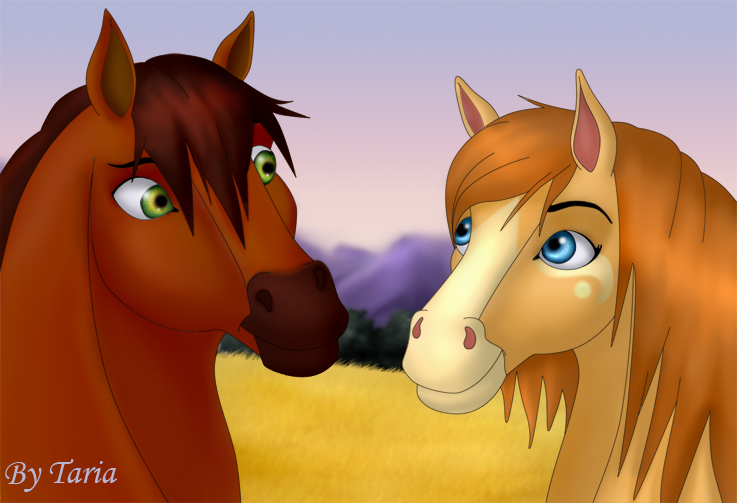 Description
This is for a contest at DA
the theme of the contest is to draw Spirit and Rain's foal, draw him/her as an adult and give him/her a mate.

So this is Ajax and his mate Dawn.

Their story:
Ajax is the first son (he has a sister) of Spirit and Rain and he is born shortly after Rain and Spirit return to his homeland. When he was young he was a little bit spoiled by his parents, specialy before his sster is born, but he was a good kid he loved to make friends. He is as fast and strong as his father and he is as handsome and has really strong heart like his mother.
He met Dawn when they were really young and they spent all their time together because after Dawn's mother dies, Esperanza starts to take care of her, so Dawn becomes really close to the family.
They grow up together and they fall in love. They have twins a short time after they become mates.
(... I am still working on their story)

Colors/Special Marks:
Ajax:
Ajax colors are really simple. He has Rain's main color (dark redish brown) with Spirit's special marks (the mane/tail color and three of his socks) his right frontleg has a white sock)
What is really special about Ajax is his eye-color.


Dawn:
Dawn has bright blue eyes and has some mark on her face (which can be seen in the picture) she only has the mark under her eye under the left eye.
she has sock on both her front legs.


well about the picture:
I really like how it turned out! Its the first time i draw horse with almost no reference ( I only used some real life horse picturs and the cover of my spirit dvd.
I really like Ajax eye color!!!
I know the bg isnt great but I still like it!
I love drawing horses its just too much fun!
Plz comment! No flamming and sorry for the terrible english/spelling!
General Info
Comments
17
Media
Digital drawing or painting
Time Taken
many, many hours
Reference