X-Files Fight The Future
X-Files Fight The Future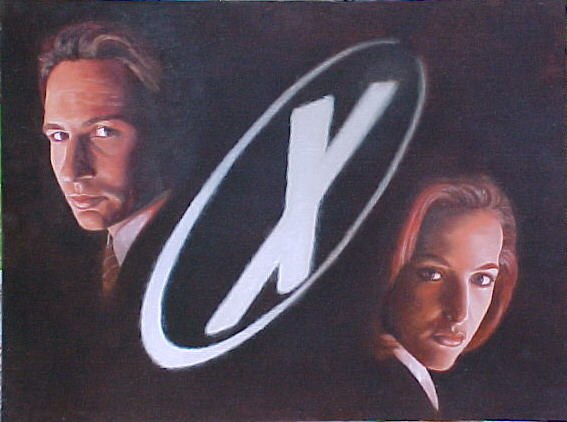 Description
I realized I haven't posted any of my oil paintings. This is one I did of the X-Files Fox Mulder and Dana Scully. I was never really finished and I had so much trouble with it (I see all the mistakes and problems in it). I'm still learning to oil paint and this was one of the early projects I did for my oil painting class. The reference was from the promotional posters for the X-Files Fight The Future movie.<br />
Here is the boring technical info: I drew the images in pencil first and then protected the sketch with a clear coat of matte medium. After that, I painted a light glaze of watered-down acrylics to plot out the base colors and then finally painted the finished colors and details with oil paint with various size brushes on a 20x15 Bainbridge cold press illustration board. The reference poster had a sepia tone over their faces so I decided to keep that color theme with the painting. I wanted the center "X" symbol to sort of "glow" but I couldn't get the effect I was looking for. It took me so long to work on this picture that I basically said "that's it! I've had enough!" and left it alone. After it dried, I sprayed a few coats of clear acrylic varnish to even out the textures/tones of the painting (some of it dried with a matte finish while some of it dried with a glossy finish). The varnish helped to even that out but I noticed it could use a few more coats around Mulder's head. I then realized I never even signed the painting!! I guess I felt it was never finished but at this point...it is!! LOL!! So I guess I can finally sign it! <br />
Lastly, to make matters even more difficult, the painting did not fit in my scanner so I had to wait for an overcast day and use my digital camera to take a picture of the painting outside. I never get a nice clear, crisp pic with a digital camera (at least not with mine!) so it looks kind of grainy and lost some details. Oh well...I think you can get an idea of what it looks like but it looks much better in person. Okay, I'll stop babbling now. Enjoy!
General Info
Comments
20
Media
Unspecified
Time Taken
Reference