The Colorful Creatures of Dillydale: Page 1
The Colorful Creatures of Dillydale: Page 1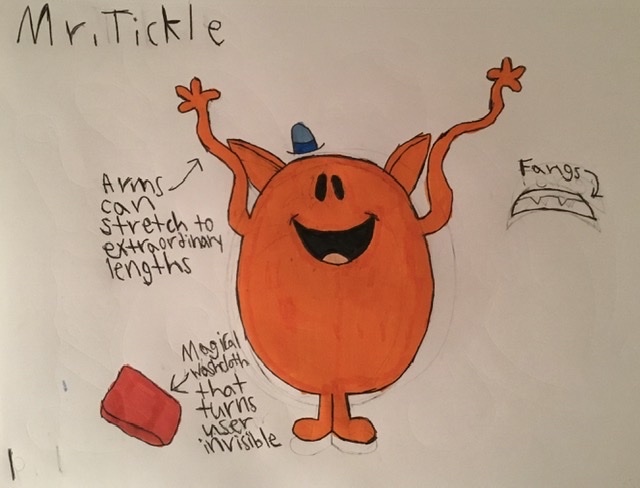 Description
If you ever visit Dillydale and feel a tickling sensation that seems to be coming from nowhere at any moment there, you just might have been tickled by an orange-colored shaped goblin known as "Mr. Tickle". 
Mr. Tickle has the uncanny power of being able to stretch his arms to extraordinary lengths. This unusual power has its practical uses, such as reaching things that would be too far up high for most people to reach, but his absolute favorite use of it is for tickling people!
Mr. Tickle has a magical washcloth. This magical washcloth, when wet, will turn anyone who rubs it on their skin invisible, and then when rubbed on said person's skin a second time while wet, turn them visible again. Mr. Tickle, as you can imagine, turns himself invisible using this magical washcloth, allowing him to sneak up on people and tickle them.
---
"The Mr. Men Show" belongs to Renegade Animation and Chorion.
"Mr. Men and Little Miss" and Mr. Tickle belong to Sanrio and Roger and Adam Hargreaves.
---
Next Page: 
http://www.fanart-central.net/pictures/user/TogekissAngel468/861244/The-Colorful-Creatures-of-Dillydale-Page-2
General Info
Ratings
Category
Date Submitted
Views
373
Favorites...
1
Vote Score
1
Comments
0
Media
Ink or markers
Time Taken
Reference