The Colorful Creatures of Dillydale: Page 4
The Colorful Creatures of Dillydale: Page 4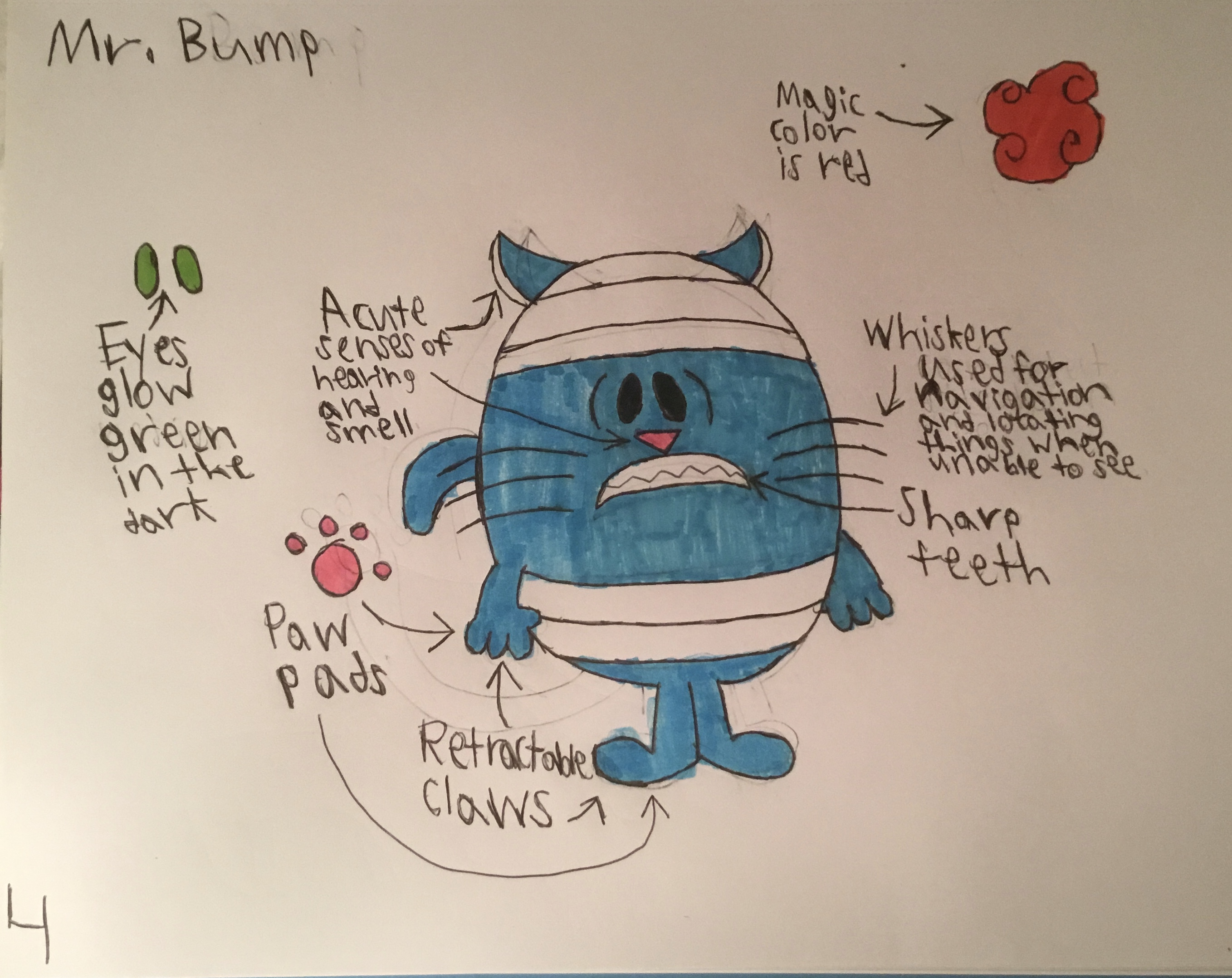 Description
When you hear a crash, bang, or other sort of impact noise in Dillydale, chances are you just heard Mr. Bump, a blue-colored shaped cat sidhe, having another one of those little accidents he's always getting into. 
Both of Mr. Bump's eyes have a tapetum lucidum, which allow him to see in the dark, and are why his eyes glow green in the dark. In addition to this "natural night vision", as he puts it, he has acute senses of hearing and smell like those of an actual cat, and whiskers that can help him navigate and locate things when unable to see through normal means.
Mr. Bump has sharp teeth and retractable claws, which he typically uses for hunting live prey (i.e. fish and mice) and for self-defense. 
As with all members of the aos sidhe, Mr. Bump can use magic, although it is different from the magic Miss Magic uses (for more information on Miss Magic, see page 21). Mr. Bump's magical specialty is in spells that involve the use of animals, although a lot of animals seem to have something against him. One animal he often uses is cats, because they rarely attack him (this may have to do with him being a cat sidhe).
Mr. Bump has a sister named Miss Whoops (for more information on Miss Whoops, see page 27).
---
"The Mr. Men Show" belongs to Renegade Animation and Chorion.
"Mr. Men and Little Miss" belongs to Sanrio and Roger and Adam Hargreaves.
---
Previous Page: 
http://www.fanart-central.net/pictures/user/TogekissAngel468/861256/The-Colorful-Creatures-of-Dillydale-Page-3
Next Page: 
http://www.fanart-central.net/pictures/user/TogekissAngel468/861368/The-Colorful-Creatures-of-Dillydale-Page-5
First Page: 
http://www.fanart-central.net/pictures/user/TogekissAngel468/861241/The-Colorful-Creatures-of-Dillydale-Page-1