Lotus Child - Na Zha
Lotus Child - Na Zha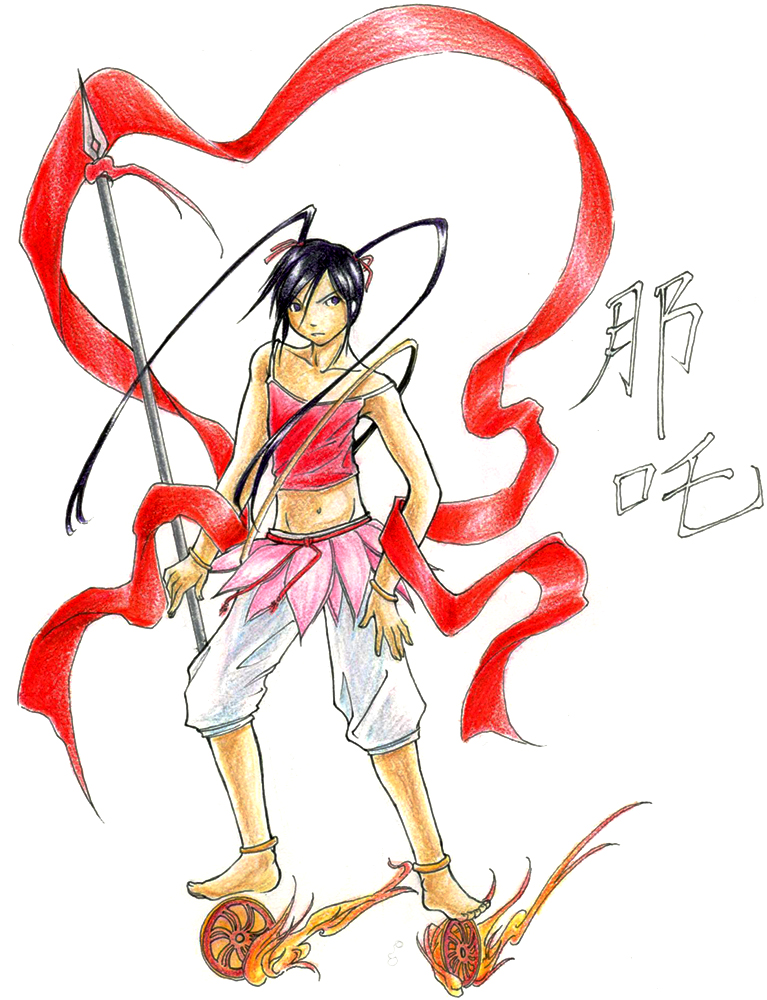 Description
RARRGHHHHH I REALLY DON'T LIKE THISSSSSSSSS
This pic is
so damn
BORINGGGGGGGGGGGGGGG
BUT OH WELL. CONCEPT SKETCH.
(Na Zha just doesn't quite realize how femmy he looks, otherwise he wouldn't be trying to act so badass...)
Na Zha is another popular character in Chinese Myth. He was brought up to my attention again as he does go head-to-head with WuKong in his rampage through heaven. Na Zha lost, of course, but I always liked the kid. ;D
Story:

Na Zha was an odd child born from a meatball (literally). He had... all I remember was, an interesting relationship with his dad. He happened to wreak havoc in one of the seas, and as punishment (if I remember correctly) his father tied him out and let him die for his crime. (I'm gonna need to read up on this, I forgot....)
Na Zha died, but an old man (someone special, blah blah blah) brought his soul back to life and into a "doll" of Na Zha made of lotus stems and flowers. Hence the "lotus child." He then on served in heaven. Something like that. D: (Damn, I don't remember this well, lol.)
I think I've got all his weapons and accesories down. He's got fire wheels, a spear, a golden circle (the hola-hoop), and usually a red ribbon accompanying him. He's eternally youthful, since he's not in a fleshy body.
Interesting thing is, in two more modern movies on Chinese myth, he and WuKong end up friends. It's a quaint idea, and I'd like to draw it sometime, but I'm afraid I've not got that much skill... u____u; (That or them fighting, which would be spiffy.)
Oh, and for those other peeps out there...
The
1961 animation, "Havoc in Heaven,"
details WuKong's journey to heaven and antics there... I've "subbed" the episodes out on notepad, so if any of you guys want to watch it (it's available on YouTube), here are the subs:
http://silverraven.freewebpage.org/havoc-in-heaven.txt
Another interesting thing to note... Na Zha's father shows up in "Havoc in Heaven." He is General Li Jing, the gruff-looking man with the tower in his hand. ;D Just thought I'd like to let you all know.
Anyway, that's all. Ugh.
General Info
Comments
6
Media
Colored Pencil / Crayon
Time Taken
D;
Reference
not many. refs of him are hard to find. :(