Yuna Costume
Yuna Costume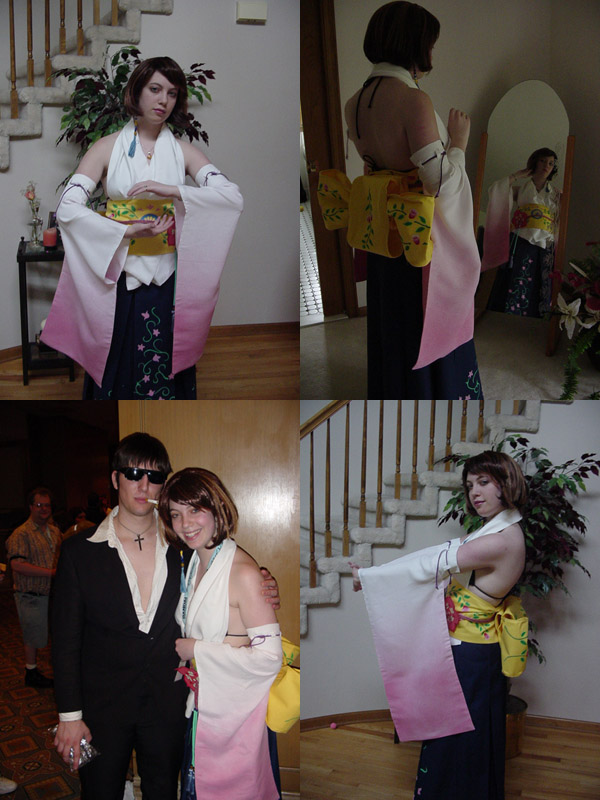 Description
Well, seeing as I got the okay for cosplay, here we go! I've cosplayed for some time, but this is my first time making a costume. And as you can see, it came out very well!<br />
<br />
It took a while to do, but most of it got done at the last minute before the Motor City Spring Comic Con. All of it is hand made. I sewed together the skirt from a pattern, and the other pieces from hand drawn patterns. The flowers on the skirt I hand painted, as well as the design on the obi and bow. The bow I also used wire in to make it stiff and look more like a real obi bow. Also for the pink in the sleeves I used spray dye. I even did work on the wig. I bought the wig, but all the highlights I put in myself. A lot of work went into this costume!<br />
<br />
By the way, I am the one seen in the costume.<br />
<br />
This costume got it's first big show at A-Kon 14 this year. If you'd like to see some more pictures, go <a href="http://www.ofoto.com/PhotoView.jsp?UV=282112227213_99452124405&collid=60015789305&photoid=58862889305&page=1">here</a>.
General Info
Comments
30
Media
Unspecified
Time Taken
Reference