Sailor Crescent!!!
Sailor Crescent!!!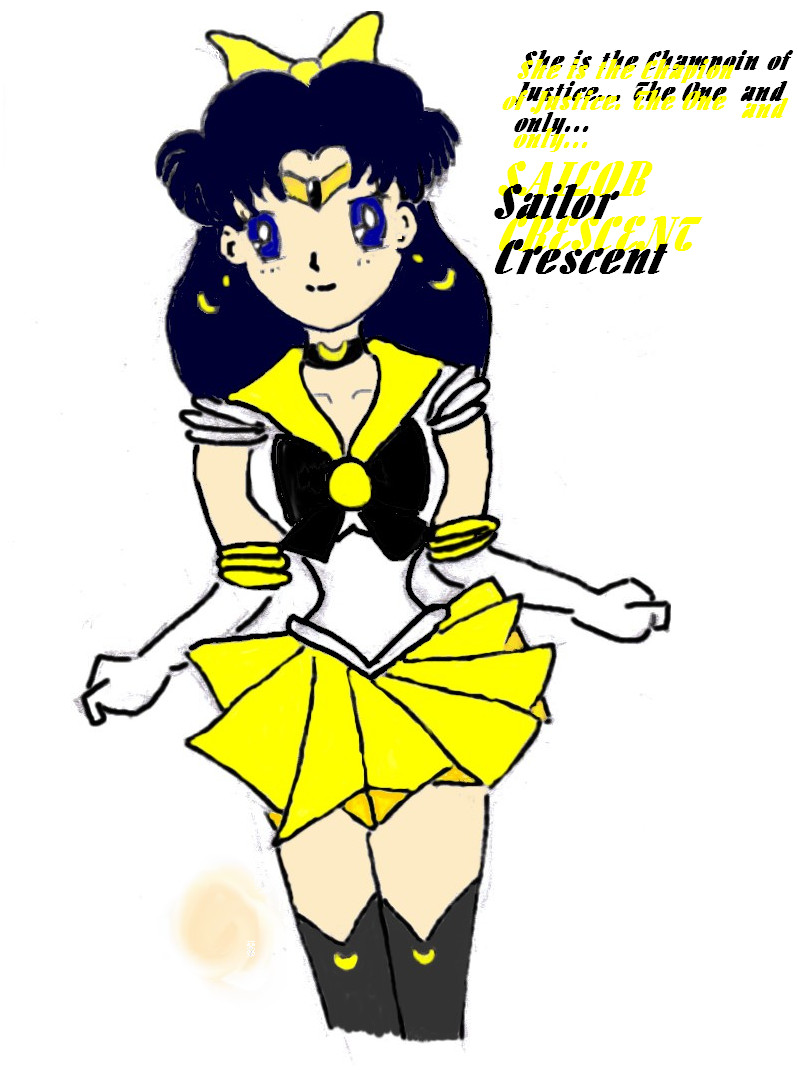 Description
Hey Guys! It's me again, with yet ANOTHER Sailor Scout. Well this time the scout May or may not be so familiar. For most of you it won't Be But if you wanted to check it out, you could always check out my Story "The Quest of The Silver Crystal"
http://www.fanart-central.net/story-47364.html
and find out...
Let's get back to the Picture... This is my Very First time Coloring a Picture in Photo Impression, SO I hope you like it, and if you don't thats fine just tell me =D
I planned to color it in Photo Shop 9.0 but my brother hasn't Installed it yet to his Computer, and I can't install to mine because My Computer is Old and Crappy...
I will be Posting the Original As soon as I can crop it... I like the Original Better *I always do*... Lol and NO I didn't originaly Draw it this big, it's just my stupid scanner...
OHHH and if you all wanted to, I could Post a black and White page that those of you who want to draw your own Sailor Scout, could use as a guide... Basically A Coloring Page
If I were to rate this Pictures skill Level I would Say LOW advanced/High Medium, Why? Becaus eI got the stomach right and it's colored with something other then MS Paint lol
And One more thing, She doesn't Usually have a Bow in her hair, It's just her Hair lokoed really funky with out it lol. And I Wanted to make her hair Longed so You Could have seen her low lights, it's just looked really weird... Heres her Profile...
*Original Design Made by FallOutGirlAAARHinder*
Name- Hazel Tenou
Parents: Adobted by... well you know them as Sailor Uranus and Neptune
Sailor Scout- Sailor Crescent
Sailor Transformation Saying- Crescent Prism Power!!!
Transformation-(of course its coming from the story) She through up her hand and she started to glow! All of sudden she started floating, and spinning as her long beautiful hair swirled around with her…Crescent Moons went everywhere…Once the Crescent Moons pasted, there were 2 beautiful colored ribbons. One was black and the other was gold. These ribbons burst out of her golden jewel on her chest, and rapped around the rest of her torso. The ribbons flashed as more Crescent Moons went everywhere, and behind the Crescent Moon, was a beautiful white torso, with a black ribbon with the golden jewel on top of it. As she was spinning ribbons started to come out near the bottom of the torso, at the waist. The ribbons flashed as once again Crescent Moons went everywhere, and a lovely yellow skirt appeared. She held her hands up and ribbons went up and down her arms, the ribbons flashed as Crescent Moons went everywhere. She then had white long gloves on. Then she did a flip as ribbons went down her legs and burst into Crescent Moons, and once the moons past, she was wearing black boots with a crescent moon on the top of each boot. Her forehead had a yellow glowing crescent Moon on it. Sparkles went everywhere as her forehead gained a tiara with a black jewel on it, as well as 2 small Crescent Moons, one on each side of the jewel. Her neck gained a black choker with a Crescent Moon on the front of it. Lastly her ears gained ear rings with long Crescent Moons on them. She then turned around and posed.
Age: 13-14 *8th grade*
Element/Power: Wind and Sea
Planet*if you have one*: Uranus and Neptune
Name of Attack: Twister Sisters, Ice Disks, Love Hurts
Please No Flamming And Enjoy =D