Catch THAT POKEMON!
Catch THAT POKEMON!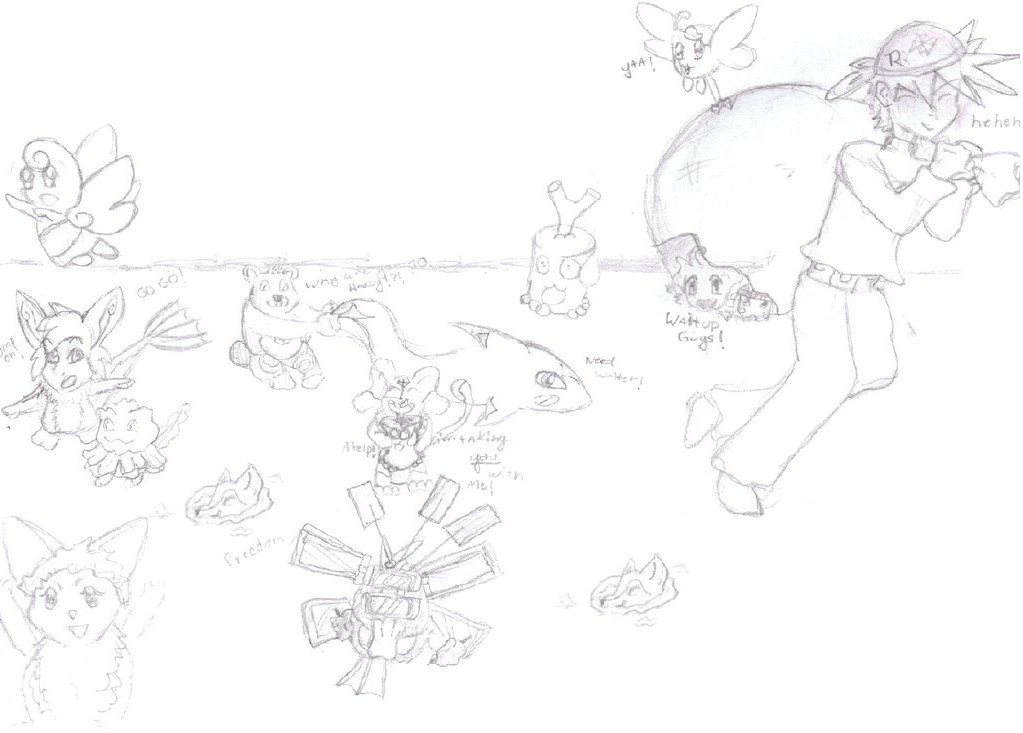 Description
Hey Everyone, I am back... And With both good and Bad news...
The Good news is we will be extending the competition to Oct. 19th-25th!!!
The Bad news is we still don't have enough pokemon!
I love All the entry's I have graded so far! You are all so creative, which is why i dedicate this Picture to all of you!!! I am so grateful! But the contest is not over yet! So keep popping out those entries!
And for those of you who don't know what to draw, here are a few Pokemon we need-
here are some unique species you could use species-
Addax
Africxan elephant
Asian elephant
Bali mynath
Cheetah
Chinchilla
Crested caracara
Golden Leo Tamarin
Guam Rail
Lion
Bubblemoss mat spider
Maned wolf
Nene
Pere david deer
Ruffed Limur
Chuckwalla
siberian Tifer
Snow Leopard
Snow Rabbit
artic fox
Here is a list of my Favorite Pokemon-
Mew!
Togepi
Magikarp
Pikachu
Growith
Lapras
Poocheana
houndour
Eevee
Clefairy
VULPIX!
Abra
Staru
Poliwag
All starter pokemon
and MANY more! And their evolutions... Lol I have so many favorite pokemon...I can't single them all out... those are just a few that pop in my mind.
Having trouble remember Previous Pokemon? look here
http://www.pokemonelite2000.com/sprites.html
We really Need CUTE and Cool pokemon!
ALSO, for those of you who are interested, we need a few legendary pokemon. I will only be having 10-15 Legendary pokemon allowed. And only 5 can be pure physic!
Here are a list of my fav Legendary pokemon-
MEW *I LOOOVE mew*
Celebi
Lugia
Latias
Manaphy *I love this one*
Suicune
Back to the picture- This pictures shows me sneaking off with a bag of your pokemon! and As you can see, there is a whole in the bag and the Pokemon are running away! And of coarse, I don't realize it...
This picture is to symbolize the fact that I have not recorded anyone's grades! Sorry, there are almost 100 of you guys! It's hard to get a hold of everyone's entries!
This picture is to also celebrate the creation of our new site(message board)! Which is where I will be posting all news, updates, ETC. And where all of you will be sending me your Pokemon scores!
http://z10.invisionfree.com/Pokemon_RT_RPG/index.php?act=idx
http://z10.invisionfree.com/Pokemon_RT_RPG/index.php?act=idx
Every pokemon in this picture is a pokemon someone has submitted to me! and yes MOST of these Pokemon have been excepted into my Collection for the game. If your Pokemon is not in this picture It DOES NOT mean it didn't make it, it just might mean that I couldn't draw it because of the detail or something.
Here are the Names of the pokemon In this picture... At least the once's I remember.. lol
Pokemon-
Porpie
Mondril
Babyroo
DS duck
Coalkub?
Angielie
Cleon *he's in the bag XD *
Pixen *he is in the bag too*
Fearina *she is coming out of the bag*
Techneon
Mignove
and mignove again in techneon's Arms XD...
Swampruce
Aquaera
Enjoy the picture, I hope this picture is submitted ASAP