Wraith
Wraith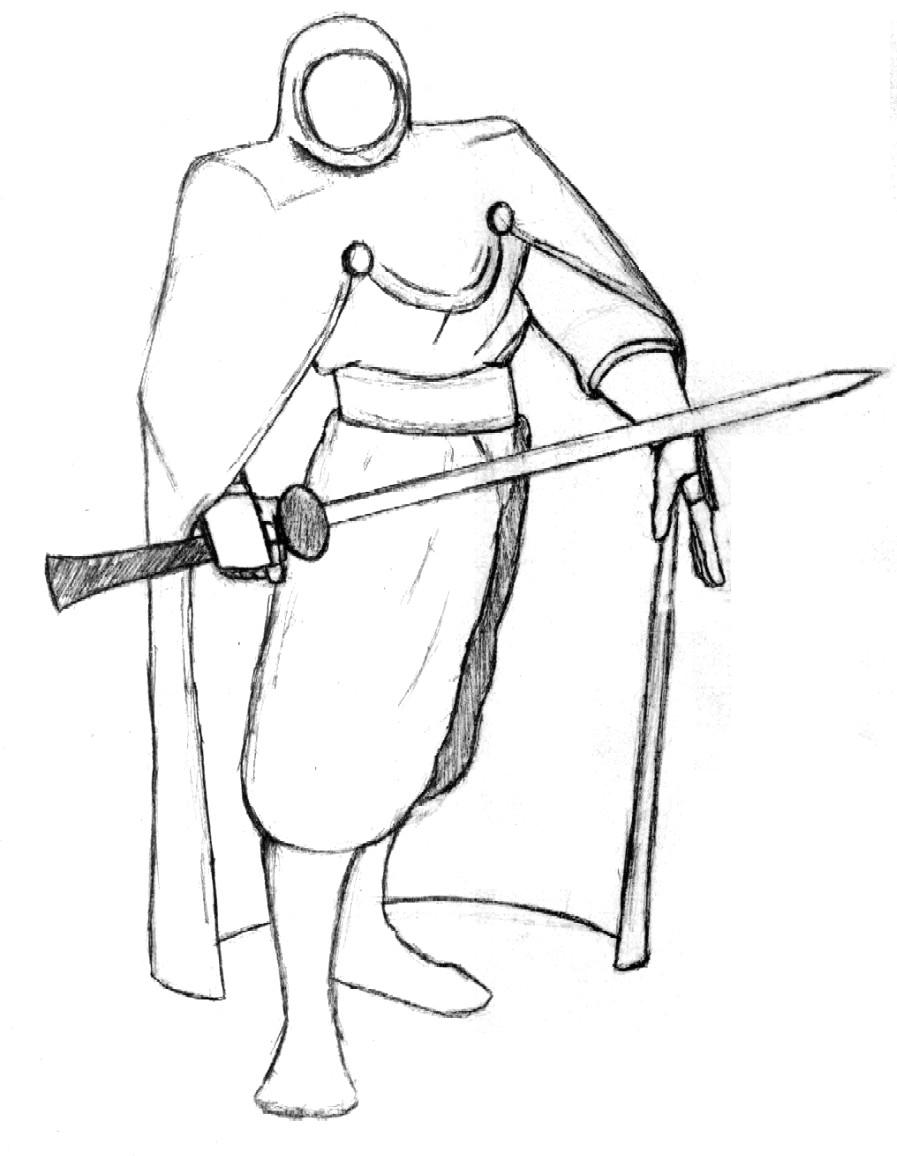 Description
Here's a full picture of what the character's outfit looks like.
Like I said before I've been working on this character since late 2002. Some of the first few drawings I had of this character (which I don't have any more) showed him in a skintight outfit and a cloak that looked more like a normal hooded cloak where the hood looked like an upside down "U" or "V".
In mid 2003 I started not to like the way he looked. To me he looked too much like a
Vampire Hunter D
rip-off. I still kept the hooded cloak but the outfit went. I didn't want the outfit to be skintight… but what it was going to be and look like I didn't have any ideas at that time.
Then in early 2004 I had this dream, and one of many things I've been able to do since I was little is remembering what dreams I have. In the dream I saw this person… this man in black fighting these big bat like creatures and fighting them with a sword and he was really moving fast it was like watching a live-action Anime character fighting. He was big, tall, had broad shoulders and looked like a pumped up
Rind Wraith
from the
"LOTR"
.
So I changed the outfit to look like a black Japanese or Chinese
Shinobi shozoku
or
Tunic
with a long wide black obi belt that is wrapped around his waist. His pans are Ninja or Samurai trousers… I think there called
Matabiki
. I either give him black Ninja tabi boots or just plan black boots. The hood of the cloak I made round like a circle and that the cloak would be held on his chest by two round sliver medallions like buttons.
I wanted him to be built but not like the type of character that has all these big huge muscles everywhere.
In this picture I have him opening up his cloak to see the rest of his outfit.
The sword he's holding, I wanted him to have a perfect type sword. Where it's not too wide like a bronze sword and not too thin like a rapier but something in-between like a Chinese sword. So I found two pictures that I base the sword on.
A
Chinese two-handed Jian sword:
http://www.rsw.com.hk/dragon.htm
A
Barbarian Viking sword:
http://www.aurorahistoryboutique.com/R000177.htm
I do have few sketches of him with his hood down showing what his face looks like.
General Info
Comments
0
Media
Graphite pencil
Time Taken
Reference