Revan/Bastila: Take Me With You
Revan/Bastila: Take Me With You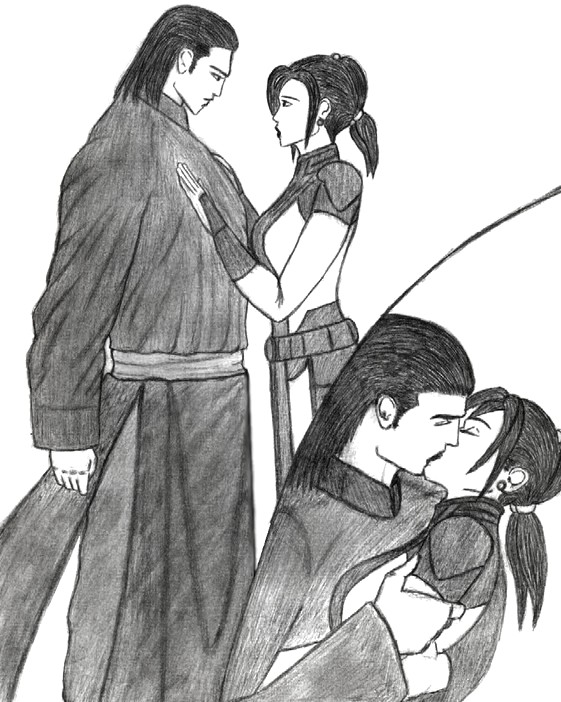 Description
The time span KOTOR-I shows Revan and Bastila getting to know each other seems to take place within weeks or a month or two. That may not be a 100% realistic but it's better than just having them falling in love in a few seconds. When it comes to Revan's character, you get to choose what Revan says and how he acts, I always pick the dialog and the decision that was intelligent to what Bastila said, asked and did. Not the dialog where Revan acts like an idiotic comedian.
Within two years of the Jedi Civil War's conclusion,
the two were married
. His relationship with Bastila Shan had a significant effect on his personal views regarding love and attachment. In opposition to the Jedi Council and the orthodox way of the Jedi Order, Revan asserted that the Jedi could embrace love without being undermined by passion. He disregarded past Jedi who had been corrupted by the dark side through attachment, believing that they had been overwhelmed by the emotions that they were ill equipped to handle. But in the Council's eyes, love and passion were indivisible, and thus they would have none of his heresy. Although Revan refused to leave Bastila, he ultimately agreed to stop challenging the doctrine of the Jedi Order. In return for respecting the Order's traditions, Revan and Bastila were allowed to remain as its members, though in a low-profile capacity.
5 years later in
KOTOR-II
, HK-47 tells the Exile that Revan and Bastila were often intimate in the Cargo hold of the Ebon Hawk. In 3,954 BBY
Bastila gave birth to Revan's son, Vaner Shan
. In the aftermath of the war, as the Sith Triumvirate and G0-T0, among others, hunted the remaining Jedi Knights to near extinction, she was one of the few to escape their notice. When Meetra Surik —the new owner of the Ebon Hawk— decided to leave known space to search for Revan at Carth Onasi's request, Shan, now one of the few known high surviving members of the Jedi Order, agreed and trusted Meetra with Revan's mask, the key to unlocking his last, forgotten memories. She spent the rest of her life with her son, and their family grew in the following years. Bastila never saw Revan again. However, she was convinced that whatever threat Revan went to fight, he had defeated it because their family never had to deal with war like they did.  
Unlike both his parents, he never joined the Jedi Order. Instead he became a politician in the Galactic Republic. He eventually married a woman named Emess, and together they had two children named Ressa and Bress Shan.
He was said to greatly resemble his father at the time of the Jedi Civil War, having the same dark eyes, fair skin and shoulder length dark hair
. The name Vaner is an anagram of his father's name, Revan. Revan and Bastila's family line eventually led to
Satele Shan
, the Grand Master of the Jedi Order during the post-Great Galactic War era and Satele's secret son Theron Shan, a Republic spy.  
During Satele's time, the Kel Dor Jedi Master Gnost-Dural created a series of records to update the Jedi Archives about the Sith Empire. In the holorecording discussing the Jedi Civil War, Bastila was
incorrectly
referred to as a Jedi Master during her role in the capture of Darth Revan. The holo record also
incorrectly
depicted Bastila at Revan's side when the former Dark Lord confronted Malak aboard the Star Forge. She was using her Battle mediation at the time.
I always knew that the Jedi Order in their time didn't allow such things as love or family. That was forbidden way before their time and it was still forbidden well past their time. Just because it's Revan and Bastila doesn't mean the Order would just simply look the other way. I also didn't see Revan being "Ok" with just him being able too when other Jedi couldn't. It wouldn't be until Luke's New Jedi Order (some 4,000 years later) that it was done away with.  
One of the many flaws in the Star Wars Universe has it that if a Jedi simply gets angry they will become a Sith and many of the fans themselves simply believe that and that love will have a Jedi fall to the dark side. They think it's that easy……… KOTOR had a far better representation of the love issue than the prequels. It even says why they think it's bad, plus several characters actually address that the Jedi might be manipulative and love shouldn't be a bad thing at all, and near the end the main character can say whether or not he loves Bastila. Heck, Bastila has conflicting feelings about the main protagonist as the story progresses... and it's not even a story about romance.
Anyone saying that Bastila was annoying in the game is forgetting such characters like Jar Jar and Anakin (all 3 films). Bastila was intelligent and far more of a Jedi than Anakin ever was. Has anyone ever heard of intentional character flaws and problems that pretty much always end up getting addressed and fixed? In other words, character development.  
The face I have for Revan is a face from the game. It's the one with the long brown hair that's combed back. It was the first face I chose and the face I always choose. You know it's interesting that there are four concept art color sketches from KOTOR-I that have a male Jedi in a brown tunic and a gray and black tunic with long brown hair that's slicked-back, like one of the male faces you choose in game. Now there is no other main Jedi or character in the game that looks like those sketches.
http://img376.imageshack.us/img376/9692/rsf0hq6.jpg
http://i247.photobucket.com/albums/gg144/VulcanJediConsular/Revan/TRR0.jpg
http://img376.imageshack.us/img376/2335/trr000xt9.jpg
http://i247.photobucket.com/albums/gg144/VulcanJediConsular/Revan/TRR.jpg
General Info
Comments
7
Media
Graphite pencil
Time Taken
Reference