Revan Vs Vandar
Revan Vs Vandar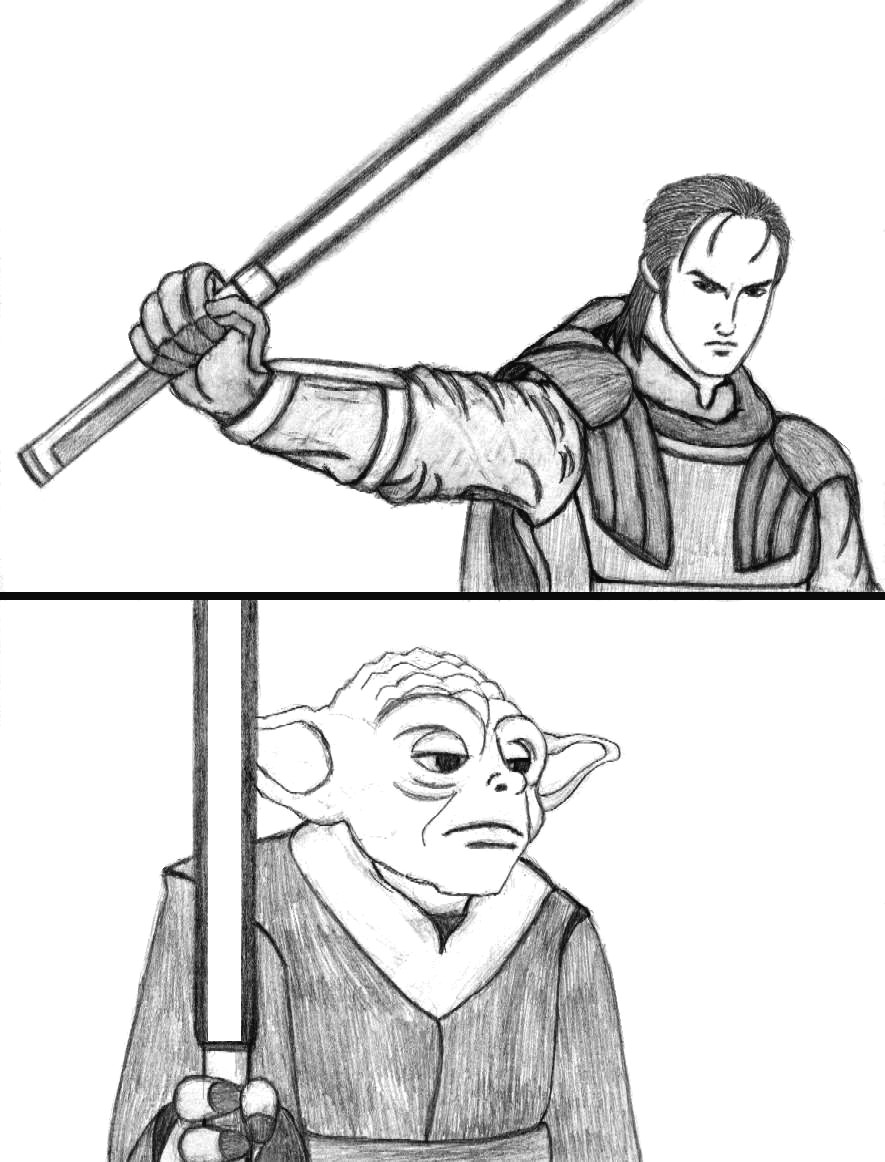 Description
This is of course somewhat like Dooku Vs Yoda. It's like history would repeat itself, the best student Vs the Grand Master. If Revan wasn't betray by Malak and he beat Bastila but didn't kill her, which he could have done since Bastila wasn't able to beat Malak, or if the Jedi Masters had Bastila use her Battle Meditation but was on a different ship and the Masters themselves dealt with Revan like Vandar… I wonder what would have happen...
Jedi Master Vandar enters the room. Revan pulls down his hood and removes his mask.
Revan:
"…Vandar."
Vandar:
"Master Vandar."
Revan:
"You were never my Master. I never sought you out for lightsaber training or for knowledge of the Force."
Vandar:
"That shall be your mistake…"
Revan:
"I've come this far without it."
Vandar:
"…and my advantage."
Revan and Vander both ignite their lightsabers.
Revan:
"If I could I would have you and the other Masters join me… but that would be impossible."
Revan raises his lightsaber.
Revan:
"I've never seen the top Grand Jedi Master of the Order in combat before… lets see if you prove to be more of a challenge than Mandalorian The Ultimate or even Yusanis of the Echani."
A Note From The Artist:
If I were to illustrate and write the fight it wouldn't be like Dooku and Yoda's lightsaber fight. For one they wouldn't jump into the air at each other and it wouldn't be an out of control fight like with Obi-Wan and Anakin in ROTS.
Vandar has much experience but unlike Yoda, Vandar is nowhere as old or as experiences as Yoda when he fought Dooku. It's the same thing with Revan, Revan is very powerful, has some experiences but nowhere near as much as Dooku had. But unlike Dooku and Yoda's fight Revan and Vandar would be able to fight on longer since they are both younger.
I gave Vandar a straight face, he's showing that he's not impressed by Revan and he's not going to be intimated.
As far as we know Vandar was not one of Revan's teachers.
I have Revan calling Vandar
Grand Jedi Master
of the Order but there's really nothing that says that Vandar was the Grand Master. But I really don't see who else it would have been since in KOTOR-I they have Vandar in the middle of the other Masters on Dantooine as if he's the leader, he's with the Republic helping and commanding when there fighting Malak's army. Just like when Yoda was helping and commanding the Storm Troopers in AOTC, ROTS and in KOTOR-II Vrook goes to Vandar to talk about the Exile and Vandar has the finally word.
The face I have for Revan is a face from the game. It's the one with the
long brown hair that's combed back
. It was the first face I chose and the face I always choose. You know it's interesting that there are
four concept art color sketches from KOTOR-I
that have a male Jedi in a brown tunic and a gray and black tunic with long brown hair that's slicked-back like one of the male faces you choose in game. Now there is no other main Jedi or character in the game that looks like those sketches.
http://img376.imageshack.us/img376/9692/rsf0hq6.jpg
http://img291.imageshack.us/img291/8182/trrgz5.jpg
http://img515.imageshack.us/img515/6003/trr0zh5.jpg
http://img376.imageshack.us/img376/2335/trr000xt9.jpg
http://img291.imageshack.us/img291/2852/trr0000uz8.jpg
Also, there has been official artwork of Revan where we don't see his face of course, but we see that he has long hair, during his Jedi days and after the war with the Mandalorians.
Revan defies the Jedi High Council
http://images4.wikia.nocookie.net/__cb20100611224958/starwars/images/1/1b/Revan_Jedi_Council.jpg
Revan and Malak shortly after defeating the Mandalorians
http://images2.wikia.nocookie.net/__cb20100611200636/starwars/images/f/f9/Unmasked_Revan.JPG
General Info
Comments
1
Media
Other drawing
Time Taken
Reference