Samanosuke/Kaede: You Give Me Strength
Samanosuke/Kaede: You Give Me Strength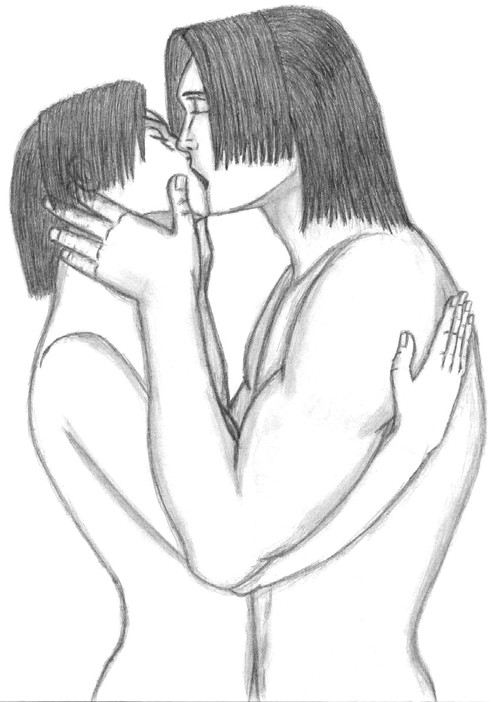 Description
Lines and dialog from Onimusha Blade Warriors
These are only Samanosuke and Kaede's events from the game in the
Story-Mode
. I recorded what they said during the cut scenes and played it back many times so I would be accurate, the dialog is word for word.
At the end of Oni 1, Samanosuke disappeared for 10 years (1561 to 1571). For Kaede it starts out that she has a dream about the day she found him.
Kaede
: "Wait!"
Samanosuke
: "Now there's a voice I haven't heard in a long time."
Kaede
: "Sam…an…osuke?"
Samanosuke
: "Kaede... have you been searching for me all this time?"
Kaede
: "Yes, of course... I am…your shadow."
Samanosuke
: "Kaede… forgive me."
Kaede
: "Samanosuke!!"
They run to each other but they're stopped by a demon and Kaede wakes up. She has a sad look on her face as she looks down and she puts her right hand on her heart. This already happen and Kaede was dreaming of that day.
Kaede has news for Samanosuke about the Demons and Nobunaga.
Kaede
: "Samanosuke, it's as we expected, Nobunaga is using the powers of the demons to grow more powerful."
Samanosuke
: "I see."
Kaede
: "What are we going to do Samanosuke?"
Samanosuke
: "We must fight back of course. Whatever it takes to stop him."
Kaede
: "…Oh…"
She has a worried look on her face. Kaede is worried that he might get killed and that she'll lose him for good this time.
Samanosuke
: "Don't worry Kaede. I don't die easily."
Kaede
: "… Be careful…"
Later Samanosuke and Kaede meet at the same place where she found him on a wooded bridge in the mist-filled valley in the Omi Mountains.
Samanosuke
: "I remember this place."
Kaede
: "This is where I found you."
Samanosuke
: "I am sorry I hid from you Kaede."
Kaede
: "It doesn't matter now. It's all in the past."
Samanosuke meets another character called Keijiro, the little kid from Warlords who's all grownup who changed his name. Samanosuke tells Keijiro why he went away.
Keijiro
: "Is that really the gantlet that changed you into an Oni?"
Samanosuke
: "Yes, when I came to, Fortinbars body was laying there. It bored scars that could not possibly have been made by humans."
Keijiro
: "What?"
Samanosuke
: "It was then that I realizes the terrible nature of my power. If I didn't find a way to control it… I would be unable to protect the people I love. That is why I left."
Keijiro
: "I see…"
Samanosuke was really talking about Kaede. Kaede is really the only person who is very close in Samanosuke's life. He left because he would not be able to forgive himself if he had hurt or had killed her. He went away because he wanted to protect her. A sort of sacrifice you could say and that's really what real love is… sacrifice.
At another point in the game Keijiro wants to know how Samanosuke feels about Kaede.
Keijiro
: "Samanosuke, about Kaede."
Samanosuke
: "Hmm?"
Keijiro
: "It's nothing… just wondering what you thought of Kaede is all."
Samanosuke
: "She is a trusted friend… no… she is much more than just a friend… I would trust her with my life."
Keijiro
: "So she is very special to you."
Near the end of the story mode for Samanosuke and Kaede, Kaede sets a meeting for Samanosuke to meet Jubei.
Kaede
: "Samanosuke, I've arranged a meeting between you and Jubei Yagyu."
Samanosuke
: "If he could help us, it could greatly benefit our cause."
As Samanosuke stars to walk away, it seems that Kaede wants to tell him something.
Kaede
: "Samanosuke!………"
Samanosuke
: "Yes?"
Keijiro comes in and says
Keijiro
: "You don't understand women do you. Even if you beat that Nobunaga there is no guaranty ya going to make it back."
Kaede
: "Samanosuke..."
Keijiro
: "Well, I won't let the both of you get killed……… and there isn't just one man with Oni powers."
Samanosuke and Kaede are right next to each other
Samanosuke
: "Kaede...
it is you that givens me the strength to fight
. It has always been so and always will."
Cut-scenes from Onimusha Blade Warriors but there in Japanese
http://www.nicozon.net/mylist/15834827
If you want to try and translation the text, you can try these translate web sites and others
http://translate.google.com/#ja|en|
http://translation2.paralink.com/
A Samanosuke/Kaede fanfic I did
http://www.fanart-central.net/story-55514.html
All of this is to show where I got the idea for the title but for anybody who's a Samanosuke/Kaede fan......... although I really shouldn't say that, being that there are no S/K fans. I'm the only one... believe me, I would know. I'm the only fan of them that will draw and write a story about them.