Lord Revan
Lord Revan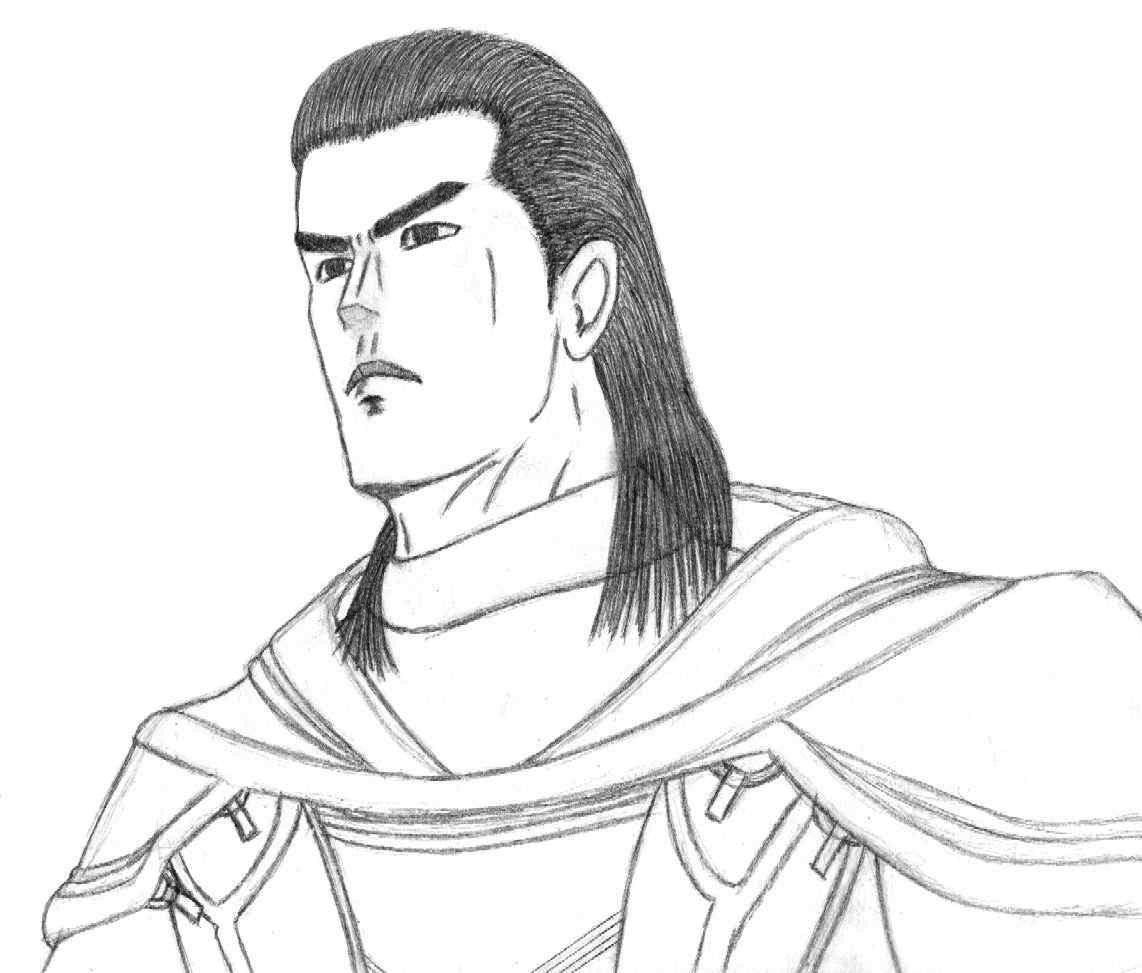 Description
Revan with long brown hair that's combed back
and it's been awhile since I've seen a fan art picture of a male Revan anywhere (he's
male
people, get over it and get use to it).  
At the end of KOTOR-I in the dark side ending, I would have given him a hard straight motionless expression like that of a Samurai or an American Indian warrior. He is almost giving a mien look but not to the point of trying to look too mien and evil. It's that type of look where you really don't know what he's going to do. Although the type of graphics the game had, it would have been too much of a blank expression. The game would have needed the type of graphics that Metal Gear, Silent Hill or Resident Evil had in order to show that type of detail.  
When it comes to looks and personality, I think of Revan of how they talked about him throughout both KOTOR games, I don't see him with very short hair, like that of a Marine or a Republic soldier. I've never seen the appeal of skinned head looking characters like Starkiller or having facial hair on only his chin.  
In fact there has been official artwork of Revan where we don't see his face (at the time), but we saw that he had long hair.
Revan defies the Jedi High Council
http://images4.wikia.nocookie.net/__cb20100611224958/starwars/images/1/1b/Revan_Jedi_Council.jpg
Revan and Malak shortly after defeating the Mandalorians
Revan was an unprepossessing man, with fair skin, black hair and dark eyes. Revan described his own features as "unremarkable" and "average". During the Mandalorian Wars Revan took to wearing his hair long, sometimes tied back and sometimes flowing freely past his shoulders.
http://images2.wikia.nocookie.net/__cb20100611200636/starwars/images/f/f9/Unmasked_Revan.JPG
We finally see his face in Star Wars: The Old Republic
http://images4.wikia.nocookie.net/__cb20120118212338/starwars/images/6/6b/RevanTOR001.jpg
Looks like a lot of people's depiction of Revan has been way off… imagine that…  
Now I can see Revan being a funny guy but not 24/7 as most people write and draw him. When it comes to character and how Revan acts, I don't see some funny cocky idiot, I don't see Revan as Han Solo or as Anakin Skywalker. Hell, Revan was a far better Jedi and Sith Lord than Anakin ever was.
I truly don't get this whole thing where almost every character in SW has to act like Han Solo. It's getting to the point where almost every new character is nothing more than a rip-off of Solo, Leia, Obi-Wan and everyone has to repeat the same lines and dialog. When it comes to Revan's character, you get to choose what Revan says and how he acts, I always pick the dialog and the decision that was intelligent to what the other characters said, asked and did. Not the dialog where Revan acts like a dumb comedian all the time. Real adults, whether real or fictional, don't act like that. But leave it to SW writers and fans to be that uncreative, unimaginative and unoriginal.
General Info
Comments
5
Media
Other drawing
Time Taken
Reference