Dead or alive or you are coming with me!
Dead or alive or you are coming with me!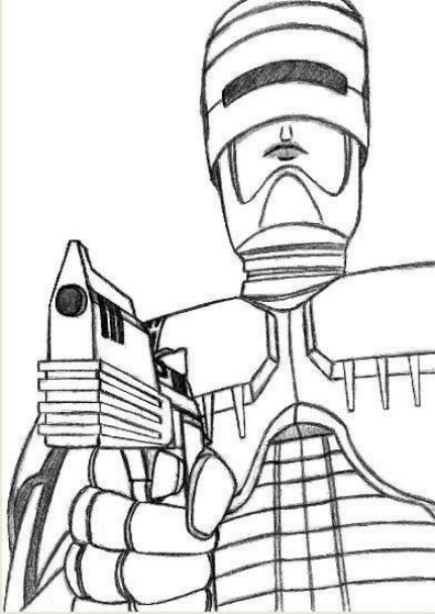 Description
Picture
Detroit Police Officer
Alex J. Murphy
who became the cyborg
Robocop
. I watched the 1st film a lot when I was a kid and I only watched the 2nd film a few times. It's one of the best Sci-Fi action films that also had good funny moments and very good dramatic scenes. Something that's very much missing from today's action films. Either there's none of it or it's completely over-the-top. His death scene in the first film was very brutal, but it's meant to be since we only know Murphy for a short a time, therefore we can't help but feel sorry for him.
https://www.youtube.com/watch?v=Y-VKrxp50mI
And trying to remember his past life was very touching.
https://www.youtube.com/watch?v=RuV4rzRJyCo
https://www.youtube.com/watch?v=csvY2ot01yA
Auto 9
Robocop's main weapon was called the Auto 9, a 50-round magazine auto pistol. It was modified off the Beretta 93R. Finding references for this particular angle wasn't easy, luckily I had an Auto 9 Airsoft gun.
Personal History
When I was a kid, I had the action figure of Robocop, his cop car, the helmet, ED209, the gun... well... it looked more like Cain's gun from the 2nd film.
http://www.geocities.jp/starwarscollector1701/P43.jpg
Like with the Ghostbusters, this was a character I drew a lot and just like this picture, they were always action scenes of him firing his gun. It's a real shame that there's only one good film and video game (the Arcade version) of this character because all the sequels, video games, comic books, cartoons and live action TV series of Robocop have all sucked. Robocop just seems to be a character that one writer after the other just can't write... they don't know what to do with him. The only good storyline that I've seen was a 1-12 issue comic book from 2014 by
Boom! Studios
.
http://www.comicvine.com/robocop/4050-75378/
I didn't know until a year ago that a band called Priestess did a song about Robocop called
Murphy's Law
.
https://www.youtube.com/watch?v=0gIobO3g3Xk
https://www.youtube.com/watch?v=S3Gtu4JdNxM
"One life
Nearing death finds a way to remain
Kept on a digital viewing screen
Life sustained

State your prime directives
Eat your baby food
Scum-filled city streets afraid
Blow those crooked fracks away

We're born inside this iron cage
Past life screaming out in pain
He cried

Slate clean
Memories find a way to reveal
He proves it's not his mind but his soul
That makes him real

Here's your prime directive
Justice is revenge
Guard down pump him full of lead
That's some fancy shooting kid

Hold, I didn't catch your name
Although he'll never be the same
He'll try

Never run away
Away
Away

One life
Nearing death finds a way to remain
Kept on"
There never should have been a Sequel or a Remake
Director Paul Verhoeven and the writers of the first film had a sense of cynical wit and a sick sense of violence. It was a fine line to walk, but they pulled it off. Verhoeven didn't come back to for a sequel because he felt that there was nothing else he could do with the character... and they should have listen to him. So they got Irvin Kershner and comic book writer Frank Miller... and they clearly did not understand the wit of the original at all. It tries too hard to be dark, violent and depressing. Robocop went from realizing his humanity, back to a machine in the sequel... taking away character development is not how you write a character.
Movie Review - Robocop 2
https://www.youtube.com/watch?v=4bRpXBCmU3w
As for the 2014 remake... I'll let these reviewers explain why it's awful.
ROBOCOP (2014) Review + Spoilers
https://www.youtube.com/watch?v=j854QY1vQ7g
Robocop(1987) VS Robocop(2014) : Movie Feuds ep73
https://www.youtube.com/watch?v=TGDeDn7F1lg
ROBOCOP (Sam's Reviews)
https://www.youtube.com/watch?v=L5GWKtKKVbk
WORST MOVIES OF 2014 (Sam's Views)
https://www.youtube.com/watch?v=EQrLAx0LXk8
Robocop - Exploring an Action Masterpiece
https://www.youtube.com/watch?v=DiVtiVrXaBU
But I guess that means it's a film that's perfect for this generation of idiotic pussies that have no good taste in films whatsoever or has any understand of what makes a well written story, plot, subplot, subtext, character growth, lines, and dialog with believable acting.
Anti-Capitalist
The only bad thing I can say about the original film is that like the rest of Hollywood, and this would also include comic book and video game writers and developers... they bash capitalism. The bad guys in Robocop are all about free private enterprise and according to Hollywood... this is pure evil. On the DVD commentary, when they started to talk about steel works being laid off in Pittsburg because Brazilian steel got cheap, Edward Neumeier said,
"you know we have entitlements"
. Michael Miner in an interview stated that this country is
"additive to capitalism"
... as if that's a bad thing or would be a bad thing because what we have at the present moment is crony capitalism or crapitalism.
John Stossel - Playing Favorites With Crapitalism
https://www.youtube.com/watch?v=LsIMXB3pD9g
John Stossel - Crapitalism and the Ex-Im Bank
https://www.youtube.com/watch?v=tSkdJijt5fg
John Stossel - Serious Crony Capitalism
https://www.youtube.com/watch?v=bctRYvUJKe4
"Hollywood does vilify capitalism in movies: Capitalism creates killer viruses (Mission Impossible II), they sacrifice people to aliens (Aliens), they speared leukemia (A Civil Action), capitalism chopped down the last rainforest (FernGully) and capitalism poisons people (Erin Brockvich)... and yet Hollywood thrives because of capitalism, they may sneer at profit but they sure do chase it."
https://www.youtube.com/watch?v=SfnpN5nbMG4
When you compare that part of the film to reality, it doesn't make sense. The real villains would be the politicians and the government.
Failed City Governments
https://www.youtube.com/watch?v=4tBPrRCO-Yc
John Stossel - Big Lies about American Business
https://www.youtube.com/watch?v=7GH6Oa5wQQg
General Info
Comments
5
Media
Other drawing
Time Taken
Reference