New 52 Superman
New 52 Superman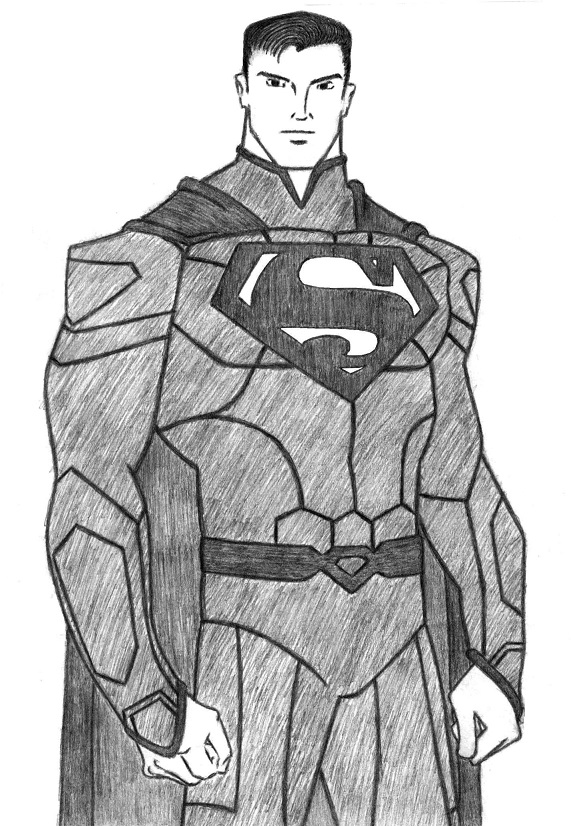 Description
Superman
Kal-El
,
The Man of Steel
from the planet
Krypton
…
Superman
. First induced in 1938 and who has to be the most generic superhero ever and sometimes, depending on the writer, he and Batman end up being one of the top Gary Stu characters of all time. I'm not the biggest fan of the him, I use to be when I was a kid, but that was the movie version and when I got a little older (9 or 10 years old), I ended up going for darker characters like the
Punisher
,
Snake Eyes
,
Cable
,
The Crow
and so on. They were characters that would kill off their enemies and not just keep fighting them year after year, decade after decade... although even those characters have fallen under that outdated comic book storytelling.
Comics
I only have a handful of Superman comics that I bought in the early and mid 90s, but the plots they came up with were never really interesting. They just ended up being like ever soap opera on TV or we just see him and others fixing natural or manmade disasters, which is why I liked some of Marvel characters more like the X-Men, they come when their needed to fight villains, they don't waste time when there's a storm, they'll only do that when they have too. Also, there are just too many Superman titles to get and to many continuities.
http://en.wikipedia.org/wiki/List_of_Superman_comics
http://superman.wikia.com/wiki/Continuities
Picture
For his costume I went with
New 52
(2010), in this continuity Superman's costume is a piece of Kryptonian technology which adds armor to his already invulnerable skin and retracts into the S-Shield when he changes into Clark Kent. It's a far better idea and explanation than a blanket given to him by his real mother that somehow ends up being his costume, or somehow his stepparents end up knitting the blanket into the costume. The 2011 costume has longer sleeves that go past his wrist, a collar, and it has some type of pattern with lines all over it to give it that armor look. But the outfit finally looks like it fits him.
http://thwpdotnet.files.wordpress.com/2011/10/superman-new-52-135272-395-599.jpg
When it comes to characters that wear spandex, that have big wide foreheads, necks, chins, and muscles that look more like giant tumors… that's not my style, so I really tried to make him look big but not too big.
Costume
With the old costume... the neckline always looked as if his big fat head and neck stretched it out and his sleeves always looked too short. It looked as if it were shirking on him or that he was growing out of it. The yellow belt and red underwear never served a purpose. There was no point in wearing it, a belt on a skintight outfit is useless, an extra thin bare of clothing is not going to help hide his dick sticking out and it's not a color breaker from the blue. If that was the case, then just paint his crotch area red.
What If Superman Was Adopted By The Waynes
https://www.youtube.com/watch?v=DveVvg3A-dI
"I guess I'll just stick to using my red undie as my symbol, hehehe!"
http://static2.wikia.nocookie.net/__cb20130510170244/p__/protagonist/images/7/72/Superman.jpg
Trunks or underwear… it doesn't matter…
He has one of the weirdest hairstyles, I've always hated that damn curl. He also has the
2nd
stupidest disguise ever, the
1st
one is
He-Man
's alter ego of
Prince Adam
. Combing your hair in a fancy way and wearing big frame glasses is not the way to hide your identity. It's sad but not surprising that some writers still use this idea, they think it makes sense and half the fan base still defense it with such piss poor desperate excuses.
https://static.comicvine.com/uploads/original/0/40/1326580-clark4.jpg
1940s animated Lois was able to see Clark Kent wearing a disguise... but she still can't see him as Superman...
https://www.youtube.com/watch?v=9enkC8_7Mrk
"DUH!"
http://www.youtube.com/watch?v=i4Nov7vSkmU
"How about now?"
http://www.youtube.com/watch?v=sh4dFEOGCds
The 2000s animated version had Lois seeing it... 
because her vision was blurry
...
https://www.youtube.com/watch?v=fyCyYxAx1d4
Superman/Clark Kent throughout the Years
There have only been four versions of Superman/Clark Kent that I have ever really liked. The first version would be
Christopher Reeve
, I love that scene where he surprises that jewelry theft and says
"Hi there. Something wrong with the elevator?"
He lets him fall for a few seconds before going after him. He had no problem killing off the three main villains in
Superman II
(although in
The Richard Donner Cut
he turns back time to avoid the devastation of the planet and thus re-imprisons them in the Phantom Zone, but not solely for that reason). His Clark was not my favorite but he had some great moments, like when he got his revenge against that truck driver.
"Gee that's funny, I've never seen garbage eat garbage before."
"This order is to go."
His Clark Kent was right for the time, the honest, innocent, and bumbling mild-manner reporter. It was something different than what the other actors did. But this doesn't need to be repeated again, it's time for people to let go of that version.  
The second version would be
Kirk Alyn
from the late 1940s. He gave both parts a sense of humor, but managed to make sure the two characters (the witty, nervous Clark and the strong, swashbuckling Superman) were differed from each other as much as possible.  
The third version would be from voice actor
Bud Collyer
in the 1940s Superman Serial, which is called the
Fleischer & Famous Superman
. I prefer that type of Clark Kent, he was tougher and more of a straight talker, although most men of the 40s and 50s were.  
The fourth version would be from
George Reeves
during the 1950s, he had a good sense of humor, he was coolheaded, could hold his own against Lois (Phyllis Coates), liked to tease, and could also be quite bold. This take on him had a lot more in common with
Dean Cain
in the 90s series. Leave the Christopher Reeve version where it belongs… in the past… one of the many things they failed to do in the 2006 film. But I only liked their characters; the B&W films and episodes were just too dumb. I also didn't like
Superboy (TV series)
Lois & Clark: The New Adventures of Superman
Smallville
The low budget on all of these shows was always noticeable, there was barely any continuity, the so-called acting was crap, and the plots they came up with were just awful. I fail to see how an actor who is so wooden, too old to be in high school, who looks and acts nothing like Clark Kent and apparently he never heard of something called a hairbrush for several seasons… how the hell did he get the part in the first place??? The CW… a place for failed community stage actors.  
Kirk Alyn and Christopher Reeve came the closet to looking more like Superman from the original comic.
http://www.fernbyfilms.com/wp-content/uploads/2009/08/Superman_1panelCUFull.jpg
http://www.supermanhomepage.com/images/serials/kirk2.jpg
https://vignette2.wikia.nocookie.net/superman/images/e/e3/SupermanII.JPG/revision/latest?cb=20070415212325
When it comes to his relationship with Lois Lane... I never really cared for her and when it comes to them being together......... it depends on who's writing them but I also never really cared if they end up together or not. The only Lois Lane that I ever liked was Phyllis Coates, her Lois was less vulnerable than Noel Neill, Coates's was more aggressive, tougher, and definitely "Clark Kent's" equal, right down to the arguments they occasionally had. She wasn't above scuffling with the bad guys on occasion. Even though Margot Kidder didn't act like that at all, her Lois was right for the type of Superman/Clark Kent that Reeve was acting like.
Films and Video Games
I was 7 or 8 years old when I saw
Superman: The Movie
. The film had such perfect casting, the opening when they show Krypton with
Marlon Brando
as
Jor-El
and
Terence Stamp
as
General Zod
was amazing, getting actors like them really made there characters and the story believable. Others such as
Sarah Douglas
as
Ursa
was great, she had such a voice, a very sexy and deadly look and personality. There have been other versions of her and Zod in the cartoons and on film... but the only ones that were good were
Michael Shannon
and
Antje Traue
... the rest sucked. I remember watching the 2nd film a few times, but even at a young age, it just didn't feel like a true sequel and for the longest time I didn't want to see it again. But then I saw the Richard Donner Cut and it was far better. I was actually watching Richard Donner's Cut of Superman I and II while I was drawing this.  
Superman III
... the only good thing I can say about the 3rd film was the fight scene between Clark Kent and the evil Superman... it's watch-able... and I like the look of the darker outfit.  
Superman IV: The Quest for Peace
and
Superman Returns
… nothing was good about them... nothing. I'll take
Man of Steel
over them any day.  
When it comes to Superman
videos games
, I've only played two. One was Superman 64 for the
Nintendo 64
in 1999... and it was one of the worst games I've ever played and luckily I only rented it from Blockbuster. It's been ranked as one the worst video games ever, on
GameTrailers
, it was ranked Number 1 on their 'worst game of all time' list in 2006, just ahead of E.T. the Extra-Terrestrial for the Atari 2600.
Superman 64 Returns!! (N64) - Angry Video Game Nerd (AVGN)
https://www.youtube.com/watch?v=LBFjpE1BaXk
The other one I played was a demo of
Superman: The Man of Steel
in 2002… meh.
Mortal Kombat vs. DC Universe
... who the hell was asking for this crossover??? I thought most people wanted the DC universe to fight the Marvel universe and Mortal Kombat to fight Street Fighter? Characters become possess from a power called the Rage which gives certain characters a reason to fight each other or some of them are just assholes.
Injustice: Gods Among Us
... watching the cut scenes, the evil Superman is nothing more than a one-dimension cardboard cutout villain who becomes an evil dictator and Batman is a Gary Stu that will save everyone because he's always on the right side of everything. Just like MK vs. DC, everyone needs a shootty excuse to fight each other, the characters and the storyline is way too simplistic, the dialog is painfully predictable and just awful. This type of MK fighting doesn't fit with characters from DC like Superman, who has the speed and power to take on everyone, but yet he can be beaten by a normal human because they somehow got a hold of Kryptonian nanotech... Kryptonite or some type of ex machina power/ability always seems to be in supply when they need it... this all comes across as typical fan fiction.
GamingSins: Everything Wrong with Injustice: Gods Among Us (Ultimate Edition)
https://www.youtube.com/watch?v=uvxVz1Rw1Gs
Injustice 2
... again, watching the cut scenes, certain characters become possessed just to have a fight scene, the evil Superman is back and not the good one who beat him, but nothing changed, it suffers the samecrap that the first game had. The story is crap, he's still a horrible written character, everyone has crappy dialog, the "What If" endings in both games are dull and pointless... what do people see in this shootty writing??? The prequel comics to the video games are even worse, certain characters are killed off left and right just to explain why there not in the game. They also try to back up why the characters behavior the way they do in the game, but it's very poorly written.
GAME SINS | Everything Wrong With Injustice 2
https://www.youtube.com/watch?v=kgclEt-c5Go
General Info
Comments
0
Media
Other drawing
Time Taken
Reference