Kage/Sarah: Please Forever Me
Kage/Sarah: Please Forever Me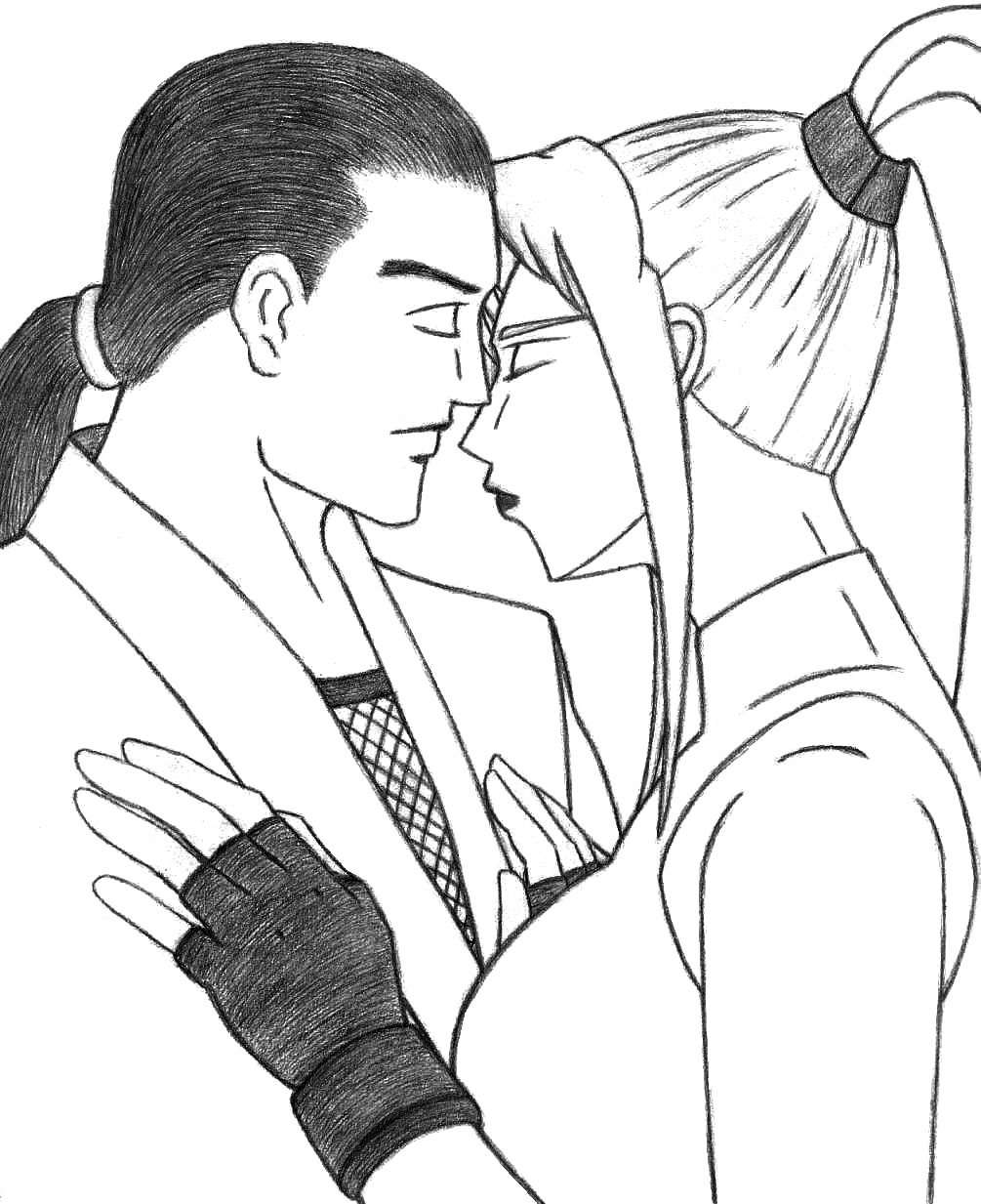 Description
Virtua Fighter
Kage-Maru
and
Sarah Bryant
from
Virtua Fighter Anime
. When it comes to VF
fan art
and
fan fiction
... it's pretty small when you compare it to
Street Fighter
and
Mortal Kombat
. When it comes to fans of this couple from the anime series, it's really only myself and two others who really support this couple. There are a few others who support it (barely a handful) but that's it. Virtua Fighter is far more popular in Japan than in the US.
Picture
I wanted to come as close as possible to the anime style that was used, it has a simple look with not that much detail. This picture is set a little after the events of the series.
For a Kage/Sarah picture I didn't want them to kiss, I didn't want them to hug or just stand a few feet from each other, but I wanted them to be close to each other after everything that had happen. In this picture, Kage asks Sarah for forgiveness for what he did. But Sarah being the kind and gentle person that she is, would pretty much say that he doesn't have to ask.
2015 Update
: I wanted to redraw this picture, it's not so dark, Kage's face is a bit wider, his mouth isn't going down and the top of his head is not cut off. Sarah's lips are more visible, her left eye is a little further back, her fingers look more realistic, she's wearing her black fingerless gloves, her hair style now has bangs and the end of her ponytail doesn't look like a banana peel.
Anime Series
This couple is based off from the short anime series that went on for 2 seasons. Media Blasters had licensed the series for distribution in North America. But due to falling sales, Media Blasters ended its distribution after dubbing 24 of the 35 episodes, and no other licensor picked up the series.
I wouldn't call it the greatest anime series at all which is probably why it didn't sell so well and maybe due to poor advertisement, I only knew about it when I saw an ad in a magazine back in the 90s. But it's not that bad and I have to agree with a few of the credits that the show had a clear, non-confusing plot, along with good characterization and background music. The fights don't drag on like other anime films such as
Street Fighter: The Animated Movie
Fatal Fury
(the anime films)
And that it doesn't resort to repetitive tournament crap like
Tekken: The Motion Picture
Although Virtua Fighter anime does suffer from something that always seems to go on in all martial art games and films... and that's having thin skin characters that are so easily offended that they end up fighting each other... there so dumb and clueless that they can't tell who is actually a good guy or a bad guy. It's a poor excuse to show off a character's fighting style.
Kage/Sarah
In this short series Kage-Maru and Sarah Bryant slowly develop feelings for each other. Although that's not what happen in the video game. In the anime series Sarah is a very sweet young woman and Kage is a mercenary Ninja, but deep down inside he's of course a good guy with a conscience and a heart to the point where he seeks redemption. Because of the kindness he received from Sarah, Kage-Maru decided to fight for the things that are worth protecting, mainly Sarah.
Kage-Maru is hired to kidnap Sarah (he wasn't told what for) and at one point she tries to get away, but she finds out that she's several stories high on a skyscraper and falls, using his Ninja skills Kage-Maru catches her, but Sarah can see that during their struggle Kage's arm was cut. Being the kind and sweet person that Sarah is, she helps him and bandages his arm.
(English audio)
Kage-Maru:
"Why?"
Sarah Bryant:
"You... you saved my life."
Kage-Maru:
"Yes."
Sarah Bryant:
"Who... are you?"
Kage-Maru:
"... No one........."
Kage and Sarah look at each for a little bit but then Kage knocks her out with a sleep needle
Kage-Maru:
"Please forgive me... if I've hurt you."
(Japanese audio)
Kage-Maru:
"I had to use the sleep needle, forgive me... I didn't mean to hurt you..."
Kage picks up Sarah and he can't help but look at her.
The soundtrack for that scene this is called
In Love
https://www.youtube.com/watch?v=_8Eh0y5Lvnk
Sarah is being brainwashed and Kage-Maru can't stand to see her in pain, he becomes his own man and breaks off from his clan.
(English audio)
Kage-Maru:
"I'm sorry but no man controls me, I must follow the voice of my heart!"
He tries to get her out but she's already changed. Kage-Maru then decides to help the others to bring her back. Throughout the series Kage-Maru shows a concern for her. At the end of the episodes you hear one of the characters talk about what's going to happen next, half the time it's Akira who's the funny guy of the group. When Kage-Maru starts to speak, Akira interrupts and says that Kage has a thing for Sarah... and he doesn't know how to answer.
Kage-Maru:
"I am Kagemaru, 10th generation Hagakure Ninja."
Akira:
"Hey Kage-Maru, you don't really like to talk a lot do you?"
Kage-Maru:
"Well I--"
Akira:
"Well anyways, here I am running all over the place and you come along and rescue Sarah, what's up with that?"
Kage-Maru:
"Well it's--"
Akira:
"You got a thing with her or something?"
Kage-Maru:
"Actually I--"
Akira:
"Oh come on, admit it!"
Kage-Maru:
"I am Kage-Maru, 10th generation Hagakure Ninja, tune into the next episode of Virtua Fighter. A young noble appears--"
Akira:
"Kage-maru and Sarah sitting in a tree!"
Kage-Maru:
"Don't interrupt me!"
When Sarah is back to normal she at one point gets caught by a biker gang but Kage shows up.
(English audio)
Sarah Bryant:
"It's you!"
Kage-Maru:
"I've come to help you!"
Sarah Bryant:
"Thank you but... but why would you help me?"
Kage-Maru:
"It's simple, I've decided to fight for the things that are worth protecting, that's all."
Sarah smiles after hearing this.
There was a few more things they said too each other, but after episode 24, the rest were not translated into English, nor do they have any English subtleties... so I don't know what they're all saying. But I did find out that what Kage and Sarah said to each other in
episode 34
and to be accurate, this is what they say in the
Italian audio
.
Kage saves Sarah from a giant falling steel axe.
Sarah Bryant:
"Thank you, Kage-Maru."
Kage-Maru:
"Be careful! This place is full of traps."
Sarah Bryant:
"Once again... you saved my life..."
Kage-Maru:
"And forever will it be this way, Sarah. I said it once, I have a mission to accomplish, that is to watch over you."
Sarah Bryant:
"Kage-Maru..."
She notices that he's trigged a trap
Sarah Bryant:
"You stepped on something weird! Watch out!"
Sarah saves Kage-Maru from another giant falling steel axe by pushing him aside. Landing on top of him, she smiles and says
Sarah Bryant:
"Know what, Kage-Maru? I love to save you too!"
Even though he's wearing his mask, Kage-Maru gives a small laugh, smiles and thanks her.
Kage-Maru:
"Hehehe! Thank you."
Sarah Bryant:
"We have to hurry up!"
Season 3?
If the series had continued I of course would have liked too have seen more of them together. The way their backgrounds were written and what they ended up doing in the storyline, we only got to see Kage's personality as a mercenary Ninja and not really as the person that he was going to be or wanted to be after rescuing Sarah. The series was focused on Akira, Pai, Jacky and Sarah, so we only got to see a little bit of character development from Kage in the last few episodes of season 1 and 2.
If we did see more of it... he would still be that silent Ninja, but a very nice and polite person and I can only see him opening up to Sarah since she touched him in a way that no one ever did. The series had them growing up and maturing in their own ways and who knows, we could have seen more of that had there been a 3rd season.
The Anime version of Kage-Maru and Sarah Bryant
As user
MadameShi
said, "These two are of course exceptionally skilled and noble fighters and are alike in more ways than one. They are people who have been raised along a certain line of following; in Kage's case, he was the tenth-generation Shadow Warrior of the Hagakure, while Sarah initially grew up under the hawk-like care of her prodigiously rich parents, then went on to pursue Jacky's desired path in life, not her own and as the events in the anime indicated, they are both actually very selfless people, willing to make sacrifices for those they love."
As user
Ligthingtooth
said, "I wanted to make a video to the two heroes of the Virtua Fighter anime that stood out, at least to me it did. So it's a video to the bond between Kagemaru and Sarah. I picked this song since well in their own way they are each other's heroes. Kagemaru spends most of the amine trying to keep Sarah safe and save her and yet… to me it really seemed like Sarah's kindness saved Kagemaru from how cold and distant he was. He only did the missions nothing more, but after meeting Sarah he seemed to get something to really fight for."
Artwork, Stories, and Videos
For some Kage/Sarah pictures, fan fiction and a music video of them
http://s247.photobucket.com/albums/gg144/VulcanJediConsular/Virtua%20Fighter/
http://s247.photobucket.com/user/VulcanJediConsular/library/Virtua%20Fighter/Fan%20Art%20Official%20Artwork
http://www.fanfiction.net/u/2646522/MadameShi
http://www.fanart-central.net/story-58858.html
https://www.youtube.com/watch?v=rA2Wfb37GDA
I have no idea of what to make of this...
http://www.suruga-ya.jp/product/detail/ZHONA76305
http://photobucket.com/gallery/user/VulcanJediConsular/media/bWVkaWFJZDoxNjM1MzI2NDc=/?ref=1
http://photobucket.com/gallery/user/VulcanJediConsular/media/bWVkaWFJZDoxNjM1MzIzMjU=/?ref=1
https://translate.google.com/translate?hl=en&sl=ja&u=https://www.suruga-ya.jp/kaitori_detail/ZHONA76305&prev=search
http://translate.google.com/translate?hl=en&sl=ja&u=http://www.suruga-ya.jp/product/detail/ZHONA76305&prev=search
But that's the anime version of Kage and Sarah. I'm not sure if it's just a drawing of them or if someone actually made a short comic story about them.