Okapir
Okapir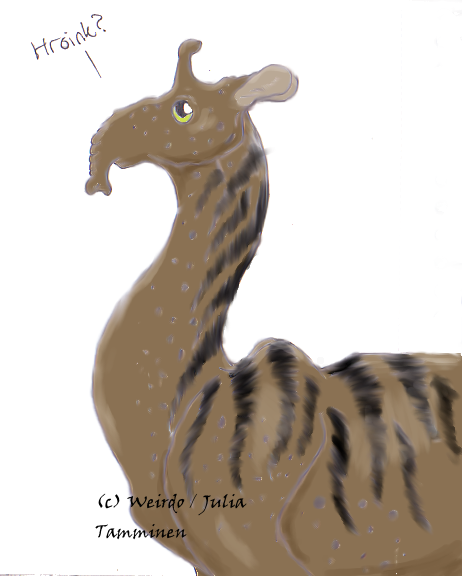 Description
A random creature I invented back at school. It's some sort of a mix of a tapir and an okapi. Or an elephant and a giraffe. I'm not sure yet, but okapir sounded better than elaffe of girephant XD
Okapirs can be used as mounts or draught animals. They are about horse-size, weigh several hundred kilos and have soft-looking, toe-like hooves like elephants and tapirs do, exept that they are splitted to only two toes, like giraffe's or okapi's trotters. They have short tails with a tuft at the end.
Okapirs tend to be pretty easy to handle, but they only stand one handler, so if their handler dies, they'll become wild animals. They are very tender among their own kind and their handler, like elephants. They tend to be afraid of new things, though, and when they are afraid of something, they might be hard to get to go close to it.
It is not suggested to try to get close their infants, since the dams can be very aggressive while protecting their offspring. Okapirs can easily be tamed as adults.
The colour variations of okapir include warm, mostly natural colours with dots, spots and stripes. The domestic okapirs may also have white markings. Rare colour mutations of okapir are black (in bright light the darker markings can be shown), albino, white with black markings and blue eyes and wild piebald. The most uncommon is albino.

Okapir species (c) Me (Weirdo/KigaWeirdo).
General Info
Comments
1
Media
Digital drawing or painting
Time Taken
Maybe 1 hour
Reference
none