Moonrun
Moonrun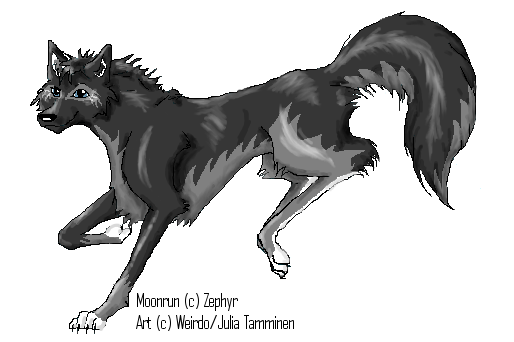 Description
Ohh... This got me ages to do. Mainly because I can't afford Photoshop and that way can't use layers (Gimp has them, but they are amazingly hard to use. I did try and failed)... *sigh*
Well, this is a commission and the commissioner asked me to do a digital drawing of their character without a background. I'm kinda glad about that, since backgrounds are a pain in my butt to draw digitally. In fact, I don't like drawing digitally in general, but it's a good skill to have - digital drawings sell best. Moonrun here is a young female wolf, who has been wandering on her own for a while. That's pretty much all I know about her. She has a nice design, too bad the little stripes on her cheeks don't show that well... The image is too small for that (I actually forgot that when I drew this, since I had this 300% bigger all the time when I worked with it to get the details in).

Comments are always appreciated!
General Info
Comments
1
Media
Digital drawing or painting
Time Taken
Done collectively for many days
Reference
A ref pic of Moonrun