The White Spirit: Radiant & Detailed Edit
The White Spirit: Radiant & Detailed Edit
The White Spirit: Radiant & Detailed Edit
by
Weirdo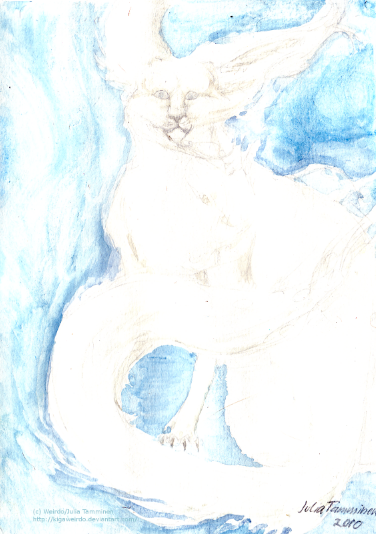 Description
"White has always been thought of as the colour of cleanness and all things good, but it can at the same time be seen as the colour of sterileness and lifelessness. Whatever way you think of it, as a colour white sums up all the colours of the world. All the colours originate from white light, and when there's as much of all colours, there will be white.
Alone solid white is soulless and imprisoning, but with other colours it brings out life power and energy. "
- translated from
www.varjojenkirja.com
, a Finnish site.
I wanted to paint spiritual paintings associated with the spiritual meaning of colours. The urge just suddenly hit me and I did two of them in a row, while usually it takes me two or three days to complete one painting. So here it is, the white spirit. It doesn't represent any single species, I just drew it as I felt it. And yes, the eyes are supposed to be dim. And I love the tones and shapes on the blue background - I'd have hated to attempt solid colour on this, it just screamed for patterns!
For once my rapist scanner did some right to the original piece (the colours are a lot more radiant than in the original, which looks a bit dull compared to the scans - I took two with both colour settings available on my scanner)... Even though, in this version, the colours are even more far away from the truth (brighter) than in the earlier scan. Ah well, you can't get everything you want - in the other scan the colours are more towards the right, but the details are almost non-existant... xD Haha.
Size A5, took about an hour or a bit more, I think.
I am willing to sell the original painting! It costs 5 € and the price includes the shipping in case it's not more expensive than posting it within Finland. The original doesn't have the copyright marks on the right, only my signature which can be seen on the left - but buying this doesn't mean you get the copyright and/or the permission to use the image for advertisement or other ways of getting profit out of it (prints, wallpapers, etc). Before you decide on buying, check out the other scan as well to make sure that it's what you asked for:
http://www.fanart-central.net/pic-790696.html
Comments are very welcome, but please keep them polite!
General Info
Comments
0
Media
Watercolor
Time Taken
1-1,5 hours
Reference
None