Animated Front Run Cycle - Lockjaw
Animated Front Run Cycle - Lockjaw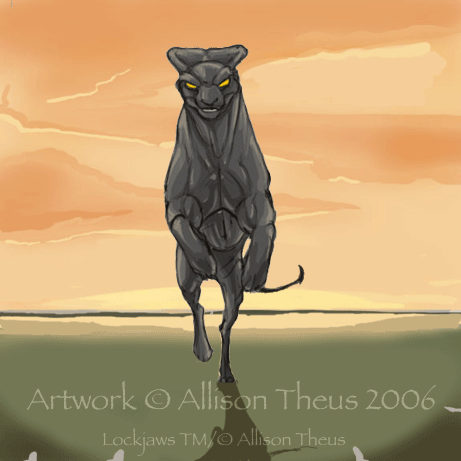 Description
A quick & choppy, 8-frame animation done in Photoshop and Imageready. Mostly just for fun, and as a test cycle for an animation that my cousin and I are plotting; though <br />
it's entertaining to watch. XD <br />
<br />
If I ever get my tablet back, I'll be able to finish the Relk walk cycle, which is much more fine-tuned.<br />
<br />
Artwork © Allison Theus<br />
Lockjaws TM/© Allison Theus.<br />
<br />
DO NOT TOUCH THIS - DON'T COPY IT, ALTER IT, OR USE IT. DO NOT TOUCH THE LOCKJAWS - THEY ARE NOT YOURS. Please. Thank you. <br />
I'm sick of people ripping off of me.