It's official: Kierkess can play better
It's official: Kierkess can play better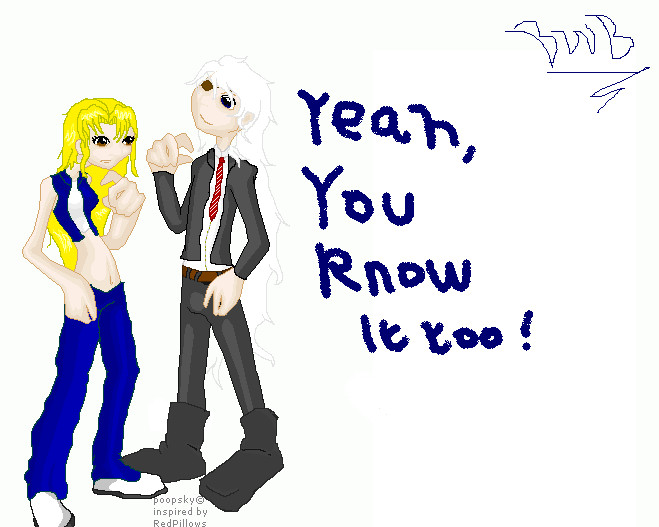 Description
Rnphasetokelly's OC, Ranpha. And my OC, Kierkess, 'discussing' who is the better duelist.
Bases are property of Poopsky, this bas and others are avalibele on the site:
http://www.freewebs.com/paperdolldecay/bases-misc.htm
Background info on Kierkess:
ok, just to start off the name is not my own, for those of you who have SOULCALIBUR 3, and have completed 'Chronicles of the sword' mode, you will know that Kierkess is a short haired warrior who serves the Dalkia forces.
Anyway, Kierkess is a sixteen year old duelist, and a good one at that. He has alot of powerful monsters (sorry, i don't know many), Including one of my own original cards still in design; Demonic Veteran.
After losing his right eye in a duel that went wrong, Kierkess stopped playing, under the fear that next time he would not be so lucky. Over time, however, he has got over his fear, and has continued playing.
Many have been foolish enough to challenge Kierkess, and very select few have managed to beat him, amongst those that have lost to him include Ranpha, Kaiba and Yami.
At first glance, Kierkess may be seen as an arrogant an self-centered person, which is half the truth, the other half is that Kierkess is a calm, quiet character, the qualities that give him his appearance as a selfish and self-obsessed snob.
General Info
Comments
3
Media
Pixel art
Time Taken
...
Reference
poopsky base